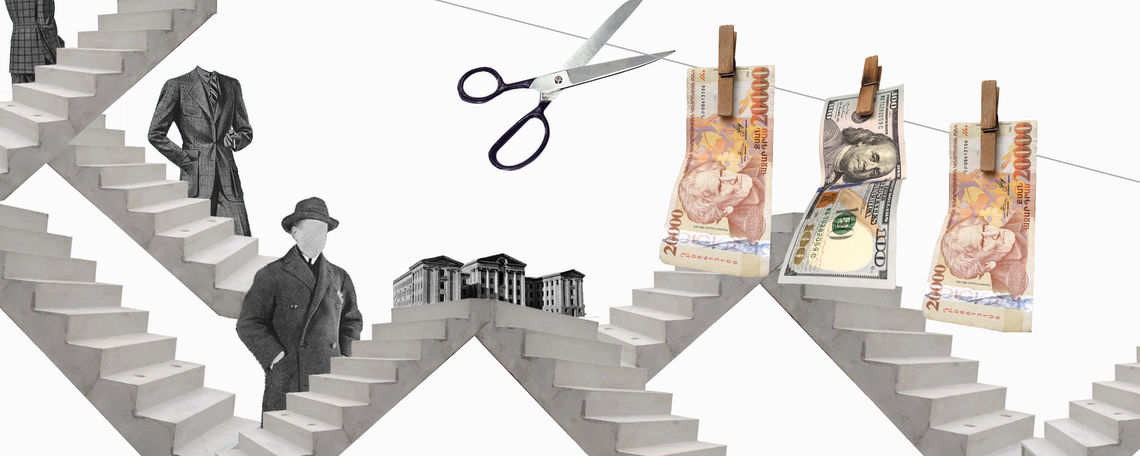 There is a certain inhumanity to stealing from the poor, from the disenfranchised, from children, and quite simply, from one's own society. But the magnitude of such cruelty is further elevated when the theft is undertaken and brazenly justified by those in positions of political power.
Prior to the Velvet Revolution, Armenia did not simply suffer from chronic corruption, it also suffered from orchestrated, systematized embezzlement perpetrated by its politico-economic elite. Utilizing a vertical power structure resembling a pyramid, the country's entire economic system was designed to accommodate systematized embezzlement, with a hierarchy of benefits commensurate to the levers of political power. The closer one was to the upper echelons of the pyramid hierarchy, the more benefits one accrued from this system of embezzlement. Exercising complete control over the country's economic and legal system, these elites composed an intricate web of financial arrangements, exclusive business networks, tax-evasion schemes, off-shore laundering stratagems, kick-back mechanisms and methods of abusing state resources to reinforce these arrangements. The pejorative term oligarch became used as the scope of reference to this elite class of thieves. Some of these oligarchs became super oligarchs, forming exclusive monopolies while dominating and controlling industries and entire sectors of the economy. These super oligarchs became Armenia's Robber Barons.
The outcome was an open secret in Armenian society: the state did not serve the social or economic interests of the Armenian people, but rather the political and economic interests of the Robber Barons. What trickled down to the people were the crumbs: Armenia was reduced from a proud and industrious society to one of poverty. A culture of corruption became standardized, and a new social equilibrium was created: corruption is rational. The consequence of this rationalization, of course, was straightforward: normalization. Not only did corruption and embezzlement become acceptable, it also became normal. And if something is normal and rational, it clearly becomes justifiable. The depraved ethicality of the Robber Barons had now become embedded in Armenia's political and economic culture.
The Velvet Revolution, in essence, was a reaction against this inhumanity that had subjugated Armenian society under the yoke of the Robber Barons. And now, it is time for accountability: the Robber Barons and their oligarchic accomplices are being brought to justice. But who are these Robber Barons, these so-called oligarchs, and how is newly-democratic Armenia bringing them to justice?
The current government, abiding by the general principles of transitional justice, has drawn a distinction between economic crimes and political crimes. The former pertains to illegal enrichment, tax evasion, unfair competition, and abuse of state resources for economic gain. The latter pertains to abuses of power, authority and gross violations of human rights. This two-tiered categorization allows for two tiers of accountability: monetary liability for economic crimes, and criminal liability for political crimes. At times, the two categories intertwine, as some oligarchs and their accomplices engaged in both. At the same time, there are those that engaged in economic crimes, but did not participate in political crimes. Punitive application of justice for each category is straightforward. For economic crimes, the objective is monetary penalization: reprieve-through-compensation. For political crimes, the objective is criminal prosecution.
Applying these two general scopes of criminal activity, the Armenian government has initiated a broad set of cases against the oligarchs and Robber Barons of the previous regime. The list of those charged is uncanny: it is composed of the upper echelon of the previous-pyramid hierarchy. Let us take a look at the high-profile cases.
The Sargsyan Clan
The Sargsyan clan, led by former President Serzh Sargsyan, along with his brothers, nephews, in-laws and close friends, reified and further refined the system of embezzlement that had absorbed Armenia's economic system. They have been charged with a litany of crimes.
On December 4, 2019, Serzh Sargsyan was charged with embezzlement. The former President (who also gave a short cameo appearance as Prime Minister) is accused of embezzling approximately $1 million in government funds in 2013 by orchestrating a kick-back scheme. According to the charges, Sargsyan interfered in the bidding process for a state assistance program that provided cheap diesel fuel to farmers. Sargsyan is charged with rigging the bidding process in order to secure the government tender for Flash LLC, a fuel importing company owned by his close friend Barsegh Beglaryan. Flash LLC was awarded the tender despite submitting a higher bid than competing firm, Maxhur. The Special Investigation Service (SIS) has charged both the former President and Beglaryan for conspiring and orchestrating the embezzlement scheme. A lien has been placed on Sargsyan's properties while both parties await trial.
The former President's two brothers have also been implicated in a series of economic crimes, ranging from illegal enrichment and money laundering to tax evasion. Aleksandr Sargsyan, infamously known as "Sashik," was investigated and charged with fraud in July 2018, while, at the same time, a range of criminal investigations remain ongoing (rumors persist of pending extortion and racketeering charges). Aleksandr Sargsyan partially conceded to his ill-gotten gains, agreeing to pay back $30 million to the government. The ongoing investigations, however, have yet to be revealed. Aleksandr Sargsyan is banned from leaving the country and a lien has been placed on his assets.
The former President's second brother, Lyova Sargsyan, has been implicated in the massive corruption and embezzlement scandal associated with the construction of the North-South highway program. Lyova Sargsyan has been charged with money laundering and bribery, as the then-President's brother illegally intervened and abused state power to attain benefits for himself and two of his associates from the $250 million project. Prosecutors allege that there is ample evidence demonstrating Sargsyan's initiation of a bribery and embezzlement scheme that guaranteed construction contracts would be awarded to his associates, from whom he would receive a 50% kickback from expected profits. In conjunction with these charges, Lyova Sargsyan has also been charged with illegal enrichment and failing to declare assets as required by law. His two children, Narek and Ani, have also been implicated in this scheme. Narek Sargsyan, for his part, has also been charged with other crimes, ranging from possession of illegal weapons to possession of narcotics. While Lyova Sargsyan has fled the country and is declared wanted, his son Narek was arrested in the Czech Republic under an Interpol warrant and extradited to Armenia on December 21, 2019. Narek Sargsyan is currently in pre-trial detention.
Also implicated in the dealings of the Sargsyan brothers is Armenia's former Chief of Police Vladimir Gasparyan, who was charged on September 18, 2019, for abuse of power resulting in financial losses for the state. Investigators revealed that, when Gasparyan was the chief of military police in 2000, he created fictitious positions for Lyova Sargsyan's driver and Aleksandr Sargsyan's two bodyguards. Even though the three men never worked in those positions, the three were paid a total of $46,000. While denying the charges, Gasparyan nonetheless agreed to provide restitution to the state for the $46,000. Gasparyan remains under investigation for various other cases and is barred from leaving the country.
Within the Sargsyan clan, perhaps the most sophisticated operative remains the former President's son-in-law Mikayel "Mishik" Minasyan, who served as Sargsyan's First Deputy Chief of Staff (2008-2012) as well as Ambassador to the Vatican (2013-2018). A faux aristocrat who fancied himself a media mogul, Minasyan used the state apparatus to methodically exercise economic and content control over much of Armenia's non-independent media. Armenia's Jared Kushner (before there was a Jared Kushner), Minasyan diversified his assets into real estate and the service sector. The leading Robber Baron of the newer generation, Minasyan used a sophisticated approach to illegal enrichment: a complex system of partnerships, shareholdings and investment ventures. In April 2020, Armenia's State Revenue Committee (SRC) brought corruption charges against Mikayel Minasyan, accusing him of illegal enrichment, false asset disclosure and money laundering. The SRC reported that Minasyan's 2017-2018 asset declaration (required by law for all public officials) showed that his assets had significantly increased, yet the source and justification for this increase was not substantiated; there was an obvious discrepancy between Minsasyan's wealth-accumulation and his legally reported earnings. Furthermore, within the same reporting period, Minasyan failed to fully disclose his assets as required by law, and attempted to bypass this infringement by legalizing  large numbers of illegally-acquired properties. A court-ordered arrest warrant has been issued for Minasyan; he remains at-large and his whereabouts remain unknown.
The inner workings of the Sargsyan clan were not specific to family members, as the former President's close friends and associates also enjoyed privileged access as members of the upper echelon. Similar to Barsegh Beglaryan, another close friend of Sargsyan, Mihran Poghosyan, became a symbol of oligarchic arrogance and brazen corruption. The former Head of the Service for the Mandatory Execution of Judicial Acts and a former Member of Parliament with Sargsyan's Republican Party, Poghosyan, among other things, was known as Armenia's banana king for having established a monopoly in the produce industry. But his infamy lies in his involvement with the 2016 Panama Papers scandal, where it was revealed that Poghosyan owned three off-shore companies. The revelations implicated Poghosyan in a broad range of crimes, but the subsequent (pre-Velvet Revolution) criminal investigation that was launched was primarily for show, as the matter was quickly quashed and the investigation terminated. As expected, proximity to Sargsyan and oligarchic status guaranteed immunity for blatant violations of the law, a phenomenon known in Armenia as "having a strong roof." The Pashinyan Government, however, reinstated the investigations into these matters, and on April 15, 2019, charges were brought against Poghosyan for embezzlement, fraud and abuse of power. Investigators revealed that, while in office from 2008-2016, Poghosyan abused the power of his office for personal gain by embezzling state funds in coordination with two of his subordinates.[1] Furthermore, during his tenure, the Service purchased 32 cars from a dealership with alleged connections to Poghosyan, thus violating conflict of interest laws.[2] In addition to the embezzlement, fraud and abuse of power charges, Poghosyan is also accused of tax evasion, having failed to remit $1.2 million in taxes. He fled to Russia where, upon the request of Armenian authorities, Russian law enforcement apprehended Poghosyan. However, he applied for political asylum, claiming persecution from Armenia's new government. Contrary to the body of evidence provided by the Armenian authorities, Russia has refused to extradite Poghosyan.
Another important case involved Serzh Sargsyan's head of security, Vachagan Ghazaryan, who was arrested in June 2018 for illegal enrichment and failure to disclose his assets. Authorities revealed that US$1.1 million and €230,000 in cash were found in Ghazaryan's residence and one of his businesses. A few days later, Ghazaryan was detained outside of a bank in Yerevan with $120,000 and 436 million AMD (equivalent to $900,000) in a bag. Furthermore, authorities divulged that Ghazaryan was also planning to withdraw 1.5 billion AMD ($3.1 million) from a joint bank account he held with his wife. For a state employee, especially one in the security apparatus, to have access to such immense levels of cash was quite revealing of the broader picture of how the system of corruption and embezzlement had been normalized in Armenia's economic system. The prosecution, however, noting that Ghazaryan's actions primarily constituted economic crimes, consented to a plea bargain: Ghazaryan agreed to recompense the state in exchange for reprieve. In February 2020, Ghazaryan paid $5.8 million in damages to the state, and the charges were dropped.
The Khachatryan Family
Gagik Khachatryan, the former head of the State Revenue Committee and former Minister of Finance, was arrested in August 2019 following a corruption investigation conducted by the National Security Service (NSS). Colloquially dubbed the Super Minister, his family has accrued immense wealth, which it has diversified into various corporate and commercial interests within and outside of Armenia.[3] The documentation of Gagik Khachatryan's wealth, and its incommensurability with his legal earnings, have been a subject of controversy for quite some time. One of the richest and most controversial people in Armenia, Gagik Khachatryan's status as a super oligarch makes him one of Armenia's more prominent Robber Barons. The ill-gotten Khachatryan empire is run by Gagik Khachatryan's two sons Gurgen and Artyom, as well as his nephews Aram[4] and Karen Khachatryan. With a consortium of over 17 companies, under the umbrella of their Galaxy Corporation, the Khachatryans are emblematic of how Armenia's previous economic system was designed to advance and protect the interests of the elite.
The charges against Gagik Khachatryan include large-scale embezzlement of public funds and abuse of power. He is in pre-trial detention and his request for bail has been denied. The charges against Khachatryan are quite comprehensive. They range from abusing state power and suppressing competition to illicit structuring of monopolies and tax evasion. Gagik Khachatryan's tenure at the State Revenue Committee also entailed the placing of family members in important positions: both his son Gurgen and nephew Karen headed divisions within the State Revenue Committee. This organized abuse of power was evidently a family affair. Karen Khachatryan has been arrested, charged and is awaiting trial while on bail.
Gurgen Khachatryan has also been charged, specifically for embezzlement and colluding in a corruption scheme. He is charged with accepting a $22.4 million bribe from Sedrak Arustamyan, executive director of Multi Group, one of Armenia's largest corporations owned by Gagik Tsarukyan, leader of the Prosperous Armenia Party. Prosecutors allege that, while Gagik Khachatryan was Head of the State Revenue Committee, his son Gurgen accepted the said bribe in the form of a wire transfer from Mr. Arustamyan. It is alleged that the allocation of $22.4 million was to secure privileged treatment for companies run by Arustamyan. For this specific corruption scheme, Arustamyan was charged and arrested on April 24, 2020, and is in pre-trial detention.[5] Gurgen Khachatryan, on the other hand, has gone on the run and has refused to turn himself in to face charges. He has claimed that the charges against him are politically motivated, while arguing that the $22.4 million transfer was a personal "loan."
Note:

Also read Lusine Sargsyan's "Primer: Post-Revolution Criminal Cases," a comprehensive list of the most high-profile investigations launched against former officials and their associates following the Velvet Revolution.

A comprehensive list of the most high-profile investigations launched against former officials and their associates following the 2018 Velvet Revolution.
Read more