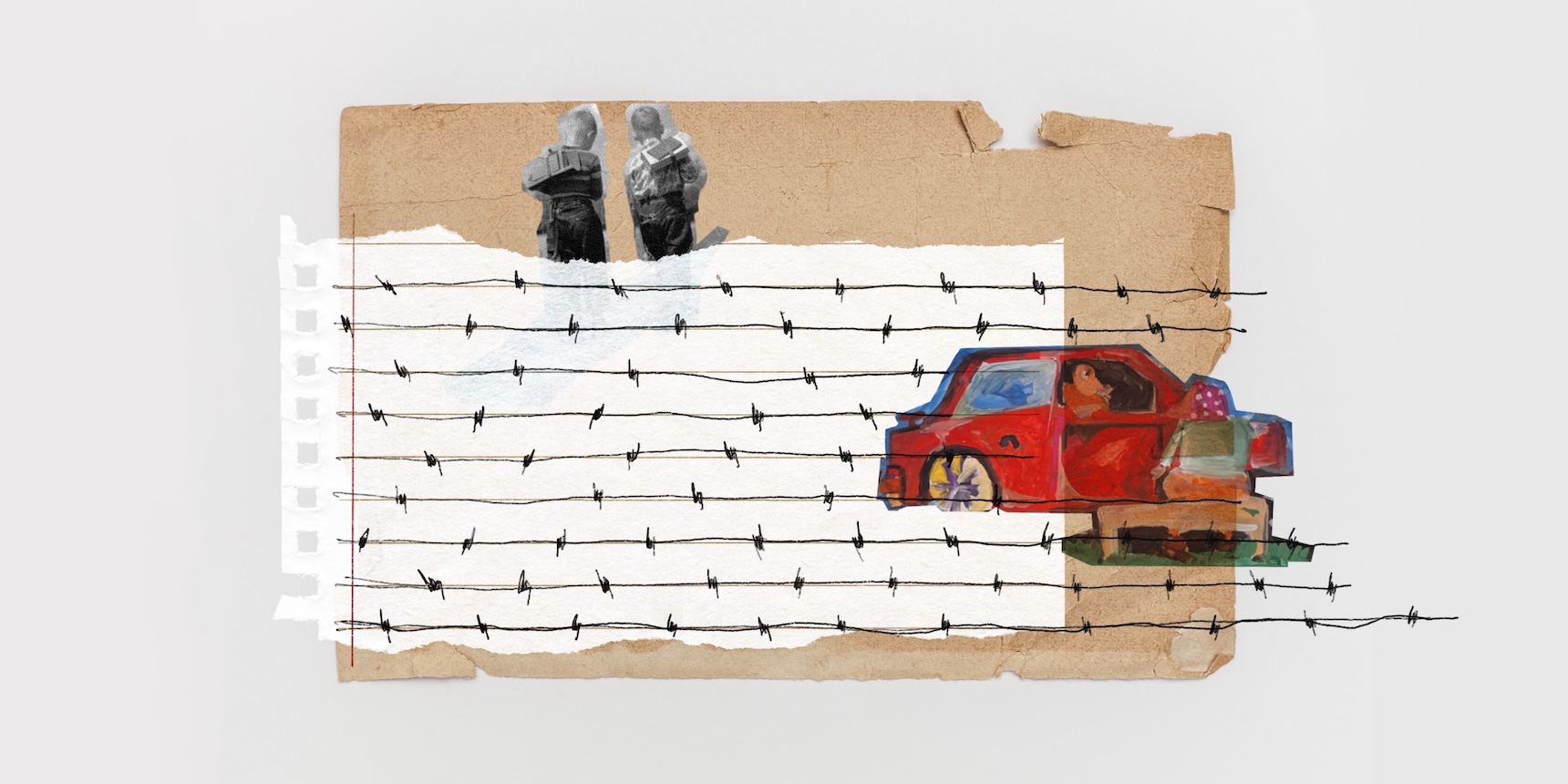 Mellisa, a six-year-old from the village of Harav in Artsakh, should have started first grade this year. However, she will not be attending school, and neither will her four older siblings.
"To be honest, we have not prepared for school. There is nothing — no stationery, clothes, sanitary hygiene products, and most importantly, no food. How can we send an underfed child who is not properly washed to school? We could not even find shoes her size," says Mellissa's mother, 37-year-old Elina Ghazaryan. 
Ruben, her 16-year-old son who studies at the Sayat Nova Music College in Stepanakert, had already been walking to school the last months of the previous academic year. Sometimes, he had to skip classes to make it back home at a reasonable hour.  
According to Google Maps, it takes at least three and a half hours to walk from Harav village to the college in Stepanakert. It is difficult to imagine walking for seven hours a day just to get to school. 
Elina hesitates when she considers whether it would be possible to send her kids to school under these conditions. She explains that as a teacher, she understands the importance of education, and currently homeschools her children but she is not prepared to send them to classes. After our conversation, she sends me a text message saying, "… the flour will only last a couple more days. I did not want to say this in front of the children, but the situation is dire. In a few days, they will be hungry as we are using the last of our reserves. Under such conditions, a parent would not be thinking about lessons."
The rights of the 20,000 children of Artsakh to education have been continuously violated. According to a report by the Artsakh Ombudsman's office on August 28, 2023, "The work of 117 schools, 56 preschools, 41 kindergartens, and 20 all-day educational institutions has been affected by a combination of issues resulting from the blockade." 
The report emphasizes that the challenges caused by the blockade, started on December 12, 2022, pose a direct risk to the fundamental human right to education. A lack or shortage of educational materials, textbooks printed in and imported from Armenia, scarce or expensive stationery and sanitary items, power and gas outages, the inability to offer school meals, and transportation issues, all disrupt children's normal access to educational programs. The absolute blockade since June 15, 2023 has further jeopardized the right to education.
According to Marina Malkhasyan, the director of the Efficient Governance Foundation in Artskah,  the current situation has made the right to life of children the primary concern, pushing their right to education to the background. 
Since 2022, the Foundation has been offering online courses for ten professions to 15-25 year olds. Its partner organizations (Instigate, Arlupa, AGBU, etc.) have committed to hiring graduates of the program. The initiative also includes creating co-working spaces in Martakert, Martuni, and Askeran for graduates to work from. "The idea was to help develop these communities, to bring about change in education and work culture. Now we have the spaces but not the members," says Malkhasyan. The challenges since the blockade are considerable. "The instructors are from different places, and all these areas have electricity cuts on different schedules. The children are either in bread lines or have been tasked with work that otherwise would not have been asked of them." 
Following the blockade, several educational programs in Artsakh joined forces through a Teach for Armenia initiative and created the Civic Initiative for the Right to Education. "This collaboration is emblematic and very important," says Marina Mkhitaryan, the executive director of the Armenian branch of the Armenian General Benevolent Union (AGBU), one of the members of the initiative. Mkhitaryan adds that the collaboration has been ongoing for seven months, and the initiative's scope in Artsakh continues to expand to include additional programs like first aid classes and free therapy.  
During this time, the initiative has also compiled facts on the violations to the right to education, voiced the issues at hand, and is actively advocating and sharing this information with international organizations. Consultations have also been held with these organizations. However, Mkhitaryan says the results have not been reassuring so far. 
The Last Bar of Soap for Eight People 
According to Alla Gurgenyan, a 35-year-old mother of six from Martakert region, her children will be taking last year's backpacks and old copybooks with blank pages to school. Her eldest child is 16, while the youngest is three. Her five-year-old son is starting first grade this year. He has asked his mother, "'How am I supposed to write if there is no pen?" To which Alla replied, "You will take the chalk and write on the blackboard." Alla's older children were planning to study hairdressing and cooking in Stepanakert this year, but they won't be able to do so because there is no transportation. 
Alla says they are still better off compared to those living in the city. They at least have potatoes and beans, even though it is not easy to convince the kids to eat the same thing every day. They have no salt and oil, nor is there any sugar or sweets.
Hygiene and sanitary products are also scarce. "I only have one bar of soap left, and I try to make it last. The children suggest, 'we'll use hot water, save the soap until we see what will happen,'" Alla says, adding that the problems are the same everywhere and they are endless. They have no food, clothes, or fuel. She adds that there are no queues outside of the shops anymore; the shops have all closed. 
 All the Rights of Children
Lawyer Ashkhen Tashyan emphasizes the importance of discussing all the rights of children and the conditions that lead to the violations of their right to education. Azerbaijan's deliberate creation of a situation that is incompatible with life in Artsakh has also affected children. "If the rights to life, health, free movement are violated, it is obvious that the right to education can not be exercised," she states.
The lawyer points out that Azerbaijan has ratified several international legal conventions, assuming the responsibility to protect children's rights, including the right to education. 
One of these conventions is the UN Convention on the Rights of the Child, adopted in 1989. Article 2 of the Convention states that "Parties shall respect and ensure the rights set forth in the present Convention to each child within their jurisdiction without discrimination of any kind, irrespective of the child's or his or her parent's or legal guardian's race, color, sex, language, religion, political or other opinion, national, ethnic or social origin, property, disability, birth or other status." Article 28 of the Convention recognizes the right of the child to education.
Tashyan points out that "the rights of the children of Artsakh, including the right to education, have been grossly violated on ethnic and national grounds. Many children who wish to continue their education in Armenia are either not being allowed to do so or are at risk of being abducted by Azerbaijani authorities, as has recently happened."
In addition, Article 2 of the European Convention on Human Rights protocol confirms education as a fundamental human right: "No person shall be denied the right to education. In the exercise of any functions which it assumes in relation to education and to teaching, the State shall respect the right of parents to ensure such education and teaching in conformity with their own religious and philosophical convictions."
According to Tashyan, the violations of both of these conventions are grounds to apply to the European Court of Human Rights (ECHR) and to the UN Human Rights Council at the individual as well as state level. Some individual applications have already been submitted to the ECHR and are being investigated by the Court. 
Children With Health Issues Even More Vulnerable 
According to the Artsakh Ombudsman's report, "There has been an increase in neuropsychiatric problems among children." Data from the Ministry of Health of Artsakh, shows that children's visits to neurologists and psychologists have increased by 47% during the blockade. The report states that children's receptivity and concentration at school has dramatically decreased due to the challenging mental and psychological conditions they find themselves in, including "a constant feeling of hunger, malnutrition and exhaustion." 
Due to the blockade, children with disabilities have become even more vulnerable. Narine Danielyan, a 36-year-old mother of three, is facing this challenge. Her oldest son, Karo, who will be entering fifth grade this year, suffers from a number of serious health issues, including epilepsy, stomach ulcers, kidney and intestinal diseases, and other complications. Narine is from Stepanakert, while her husband is from Lori in Armenia and has not been allowed to return to Artsakh to be with his wife and children. Narine has been left alone to take care of Karo and her two other children, who are four and five years old. 
Karo Paints Artsakh
I speak with Narine at two in the morning. This is her first chance to sit down to talk to me after taking care of her family, work, and waiting in queues for hours. She explains that Karo has a special diet and there is no lavash to be found. "He now depends on corn flour bread, but only the crusty parts," she explains. "For Karo, the Berdzor road is a lifeline. As we do not have specialized doctors here, people like Karo are in even greater danger."
Narine is a fighter. When she faces problems, she looks for solutions and hope. "There are no sanitary products, so I'm doing what my grandmother used to do — I'm using limestone for washing. It is really good, it cleans hands, even greasy ones, dishes and pots. It is sand, you can find it under the trees here." 
Narine has heard that since wheat flour is running out, they will be selling corn flour bread instead. "My child is lucky," she says.  
Despite the difficult circumstances, Karo will be attending school, as his mother has decided. "Despite his health issues, he is an active, energetic, and talented kid," she says. "He draws beautifully and is very good at mathematics."
Karo's drawings depict Artsakh, an old woman trying to catch a ride at the bus stop, a groom in military fatigues… 
Half Solution: Schools Open 
"The main challenge facing the education system is the lack of sanitary products," says Armen Hovhannisyan, Regional Director of Teach for Armenia. "Consider, for example, a Stepanakert school with over a thousand students who use the lavatory at least once a day," he says. "Cleaning will be impossible — there are no cleaning products. Furthermore, after months of malnutrition, the children's immune systems have weakened, compromising the collective immune health. In the event of an epidemic in such circumstances, how will the healthcare system manage to treat so many people?" 
At the same time, Hovhannisyan emphasizes the significant stress that children are under and the importance of not isolating them: "The issue of socialization is also important. Schools need to be open so children can socialize with their peers." 
Hovhannisyan suggests that giving school principals autonomy in organizing education could be a solution. Depending on the needs and circumstances of each school, class times could be reduced or the curriculum adjusted.
Despite concerns that schools might not resume this fall, on September 1, Artsakh's Ministry of Education, Science, Culture and Sport announced the beginning of the academic year. However, an addendum stated that, "monitoring will be carried out, and appropriate situational solutions will be adopted as a result of a comprehensive analysis. This might include the decision to terminate classes."
The Ministry has acknowledged the concerns of parents regarding the lack of food, transportation, and hygiene supplies for their children, but unfortunately, they are not able to offer solutions. "We cannot say that there are no solutions. Children will still have to walk to school," it stated. It has been suggested that elementary school students will be provided with small sweets and sweet tea. However, this will not be possible for students in higher grades. 
Editor's Note: After publication of this article, we received a response from Irina Mazur, Chief of Communication, UNICEF Europe and Central Asia Regional Office regarding what steps UNICEF is taking to protect the education and other rights of the children of Artsakh:
"Despite attempts to gain access, the United Nations and UNICEF have not been able to access this area for many years. The reports of the deteriorating humanitarian situation are deeply troubling. We echo the appeal of the United Nations Secretary General for all parties to ensure humanitarian access for the distribution of critical supplies to children and their families wherever needed, in line with principles enshrined in international humanitarian law. UNICEF is committed to work with all parties to take measures to protect and support children."