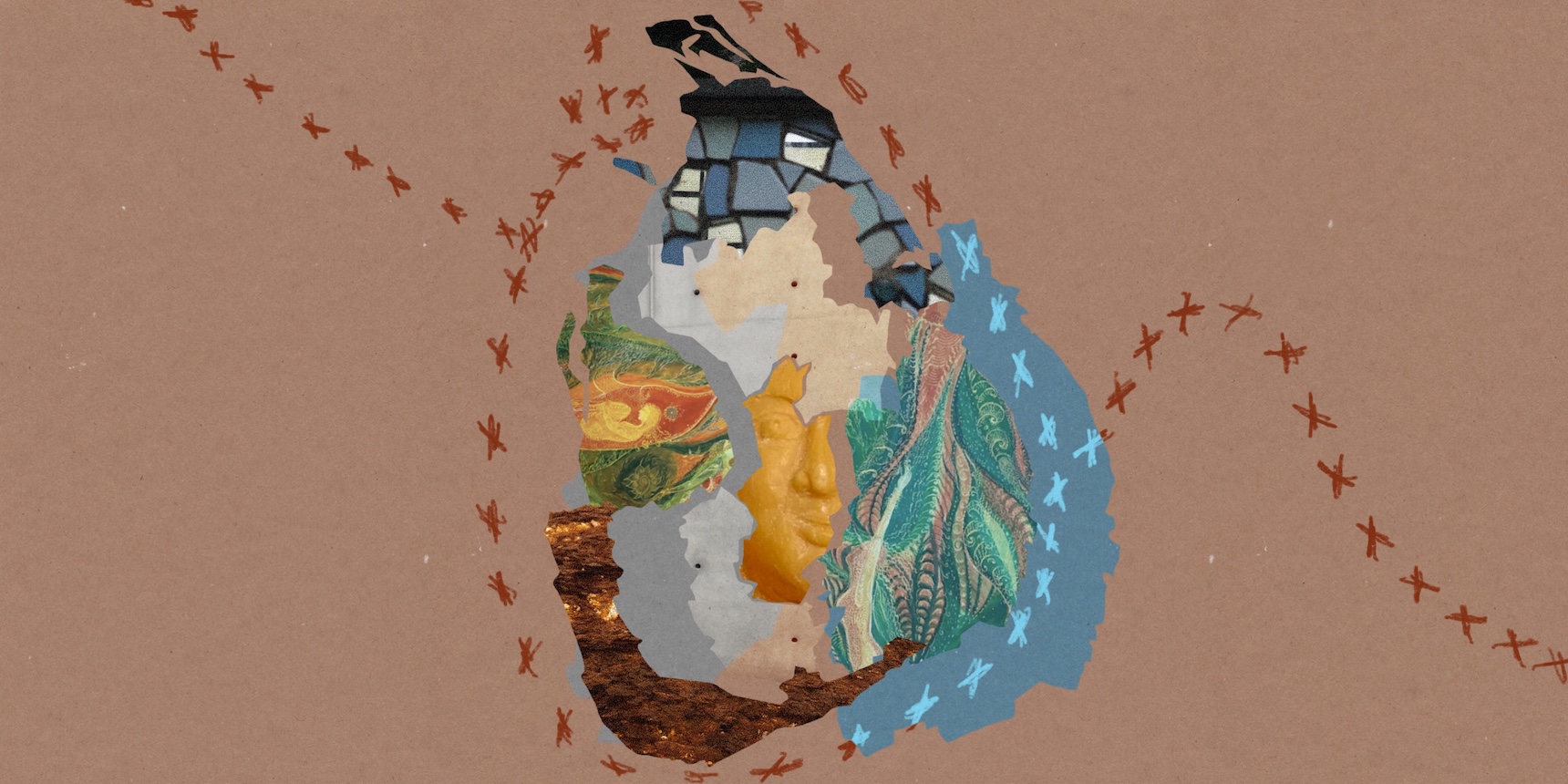 Segments from Vasuki's art have been used in the graphic. 
Vasuki, always clad in the most magnificent jewel tones, has a warm, reassuring presence. Her voice is soft and comforting, even when she cracks the wittiest jokes that make me laugh out loud. She does not speak often, but when she does, I listen intently to every single word because Vasuki carries a deep compassion for the people and the world around her that I aspire to have.
I recently met Vasuki at the Women in Conflict 1325 Fellowship Programme held in Edinburgh by Beyond Borders Scotland, an organization dedicated to intercultural dialogue. On our introductory day, I discovered that Vasuki is an artist from Sri Lanka who has used art in her activism for decades. She has worked with women from different communities in Sri Lanka and beyond who are grappling with the devastating impacts of armed conflict. At the time, I did not yet know that Vasuki herself is a survivor of war, violence, and even blockade. 
On a fateful evening halfway through the program, we took part in a session aptly entitled "sharing experiences" where each of us fellows would have five minutes to talk about any experience we wanted to highlight. Naturally, I could not bring myself to talk about anything other than the ongoing blockade of Artsakh. I spent my allotted time trying to fit all of Artsakh's history, culture, and its ongoing blockade, urging the women in the room to create space for Artsakh in their activism. By the time I wrapped up my talk, my ears were ringing and my heart was racing, like it frequently does when I speak about Artsakh. 
As I made my way to my seat, Vasuki approached me and hugged me without saying anything, almost sensing that I craved some sort of solace. "I can imagine what your people are going through," she said. "I have also been in a blockade." I was taken aback. Dedicating all my time, effort, and energy on Artsakh, I had almost developed a tunnel vision, where I hadn't even considered that the experience of a blockade could be shared by other people around the world, much less the women in the room with me. 
Over the following few days, I was eager to hear more about Vasuki and her experiences in the blockade. She told me about the beautiful, sprawling Dutch-style house she grew up in, in the city of Jaffna, at the northernmost tip of Sri Lanka. She had studied bioscience at university and when she rolled her eyes, I understood that she did not enjoy it. I also learned that she had spent much of her young adulthood in Jaffna in a blockade that lasted nearly 10 years. 
What we call a blockade in the case of Artsakh was referred to as an embargo in the context of Sri Lanka, and it is one of the darker and lesser known episodes of the Sri Lankan civil war that erupted in 1983. In 1990, the central Sinhalese government through the Sri Lankan Army (SLA) had imposed this embargo on Jaffna and other areas held by the Liberation Tigers of Tamil Eelam (LTTE) who were fighting to establish an independent Tamil homeland. The Tamils' fight for independence was fueled by decades of discrimination and oppression by the Sinhalese majority. During this embargo, food, medicine, fuel, and hundreds of other products were prevented from entering Jaffna. 
Art and Life in Times of Blockade
Over dinner one night, Vasuki began telling me more about the time she spent in the embargo. In the evenings, the lights could not be turned on inside the house because of security concerns. For young Vasuki, however, this was not a big obstacle. She would cover the dining table with a large bedsheet and sit under it with a candle, spending hours making art. In embargoed Jaffna, art supplies were non-existent, but this did non deter Vasuki either. Her art was born out of whatever was available on hand, and she made carvings in soap bars, sculptures out of ballpoint pens, and botanical drawings. 
Art has accompanied Vasuki throughout her life, even when she did not have the proper supplies. She learned portrait painting, landscape painting, and many other artforms with the pastels and watercolors that were available to school students, without proper canvases or even quality papers. Her art teacher had studied in an English school 40 years ago and he had some hardened paints left over from his years as a student. Vasuki and the other pupils somehow managed to use these paints in their artwork. Occasionally, the local printing press in Jaffna would smuggle in printing ink and give some of it to the art students who would use this dark, unforgiving ink in their work.
To make getting to art classes easier, she had managed to smuggle a motorcycle into Jaffna. I could picture her long black hair flying in the wind as she whizzed through the streets of Jaffna without — as she noted with a mischievous smile — helmet on. When the supply of petrol ran out, she would fill the motorcycle with smuggled kerosene, and end up smelling like a kerosene cooker by the time she arrived at her destination. 
During the embargo, a long, perilous, dangerous journey could be taken under the cover of night to leave Jaffna and go to Colombo, the capital of Sri Lanka. Marriages were still being arranged, universities were still operating, and life outside besieged Jaffna had not stopped. Vasuki was one of the fearless women who braved this trip, not once, but three times. A bus, a boat, a tractor, another bus, multiple checkpoints of LTTE and SLA, areas that were a no-man's land, hours of waiting and walking isolated Jaffna from the rest of the world. On this journey, many people were abducted and disappeared. 
Those who dared this journey were the only connection between the population of Jaffna and the outside world. They would take letters back and forth with them, bringing in one or two books back each time. These books would be shared and read in groups. That is how Vasuki met and fell in love with her husband. Together, they organized plays and exhibitions around Jaffna. 
"We had a big wedding in embargo," Vasuki said with a laugh. "I was sure that I would not have a traditional wedding. I was sure that we would leave the district soon. So I wanted to have something. For the parents, this was just the registration, but for us, we knew that this was going to be the wedding." She told her parents to celebrate the registration of the marriage any way they wanted. The Dutch-style house Vasuki was raised in had 300 people that day, and it was decorated with saris and glitter. Everyone in the community joined in on the celebration, especially because Vasuki's family was well loved and respected. Someone brought a kerosene generator and lit up the house with bright lights. Somebody even managed to make a proper three-tier coffee cake which Vasuki didn't get to try. "Nobody got cake at the time, it went so quick." 
Eventually, Vasuki's husband secured a teaching position at the Eastern University in the east of Sri Lanka, and they left Jaffna. On August 31, 1995, three days after they had arrived in Batticaloa, Jaffna was attacked, and the mass exodus of the population began. To me, this was the most painful revelation; that the embargo on Jaffna had ended with the exodus of the Tamil population.
Exodus
Vasuki did not hear from her family until January 1996, when she managed to go back to the area near Jaffna where the people fleeing had found shelter. As she was looking around for her family, their family dog, Lassie, came running to her. That is how she found her family after the exodus, out of sheer coincidence, or perhaps divine intervention.  
Her mother, whom Vasuki endearingly called amma, had fallen quite ill due to the journey fleeing Jaffna on foot under rain; yet, she still cooked and cared for Vasuki. Amma plays a big role in Vasuki's stories, and she fondly recalls her mother walking down the corridors of their house with Lassie by her side. Vasuki stayed with her family for ten days, and headed back to Batticaloa on January 29, 1996. 
She hadn't been back for two weeks when someone knocked on the door while she was home alone. They handed her a small piece of paper from a telegraph. The note simply stated: "Mother expired." On February 10, 1996, amma had passed away. 
After some 10-12 days, Vasuki received yet another visit from the postman. This time, he delivered a letter her amma had written to her before she died, asking Vasuki when she would come back, when and where they could have a traditional wedding. It took the letter more days to reach Vasuki than her amma had left to live. 
Vasuki turned amma's last letter into a painting. She did not go back home to Jaffna again until 2002. 
Over the next decades, Vasuki continued to work with young women who had survived war. She guided them through their trauma with art and storytelling, she advocated for their rights in court, she supported them through childbirth and recovery. She has been a champion, a supporter and a healer for generations of women, young and old. 
Throughout all this, Vasuki's art has continued to evolve and grow. After the exodus, while Vasuki was grappling with her own traumatic experiences, she was also caring for other women. The story of other survivors of war and violence merged with her own to produce deeply moving, evocative artworks whose colors and themes betray a sense of disquiet and turmoil within her soul. 
Her paintings now, however, speak of power and daring. They are bold and vibrant, and they reveal a serene presence behind the brush. 
Vasuki now initiates collective art practices with women to raise collective voices and to express their experiences and memories. She believes in holding community art exhibitions and encourages people to view and engage in discussions. She has been an integral part of women's activist spaces for peace, non-violence and justice. She has mentored almost two generations of visual artists and others who are interested in all forms of artistic and literary work for social change and peace.
Survival, Invention and Power 
As she gently narrated the adventures and misadventures of her blockade experience, I was struck by the parallels between our mountainous piece of land and this faraway, tropical island. While at times, this was jarring, I couldn't help but feel a sense of comfort and solidarity. There was some solace to be found in shared experiences between our two nations. If they had survived it, and done so with grace and empathy, like Vasuki, then what is to prevent us from doing the same? Here was a courageous and caring woman who had not only managed to survive the blockade, but had also built a life based on creativity and love, full of bright colors, self-expression, and compassion. 

A young woman's story of discovery, memory, loss and pain about a war that ripped apart the nation, but who comes to the realization that while Karabakh may have died on the battlefield, Artsakh, despite it all, is still alive.
Read more

Nothing in Artsakh is what it used to be. The Stepanakert market, once known as a feast of tastes and colors has now become a concentrated mosaic of all our misery, writes Tamara Grigoryan, a resident of the capital city.
Read more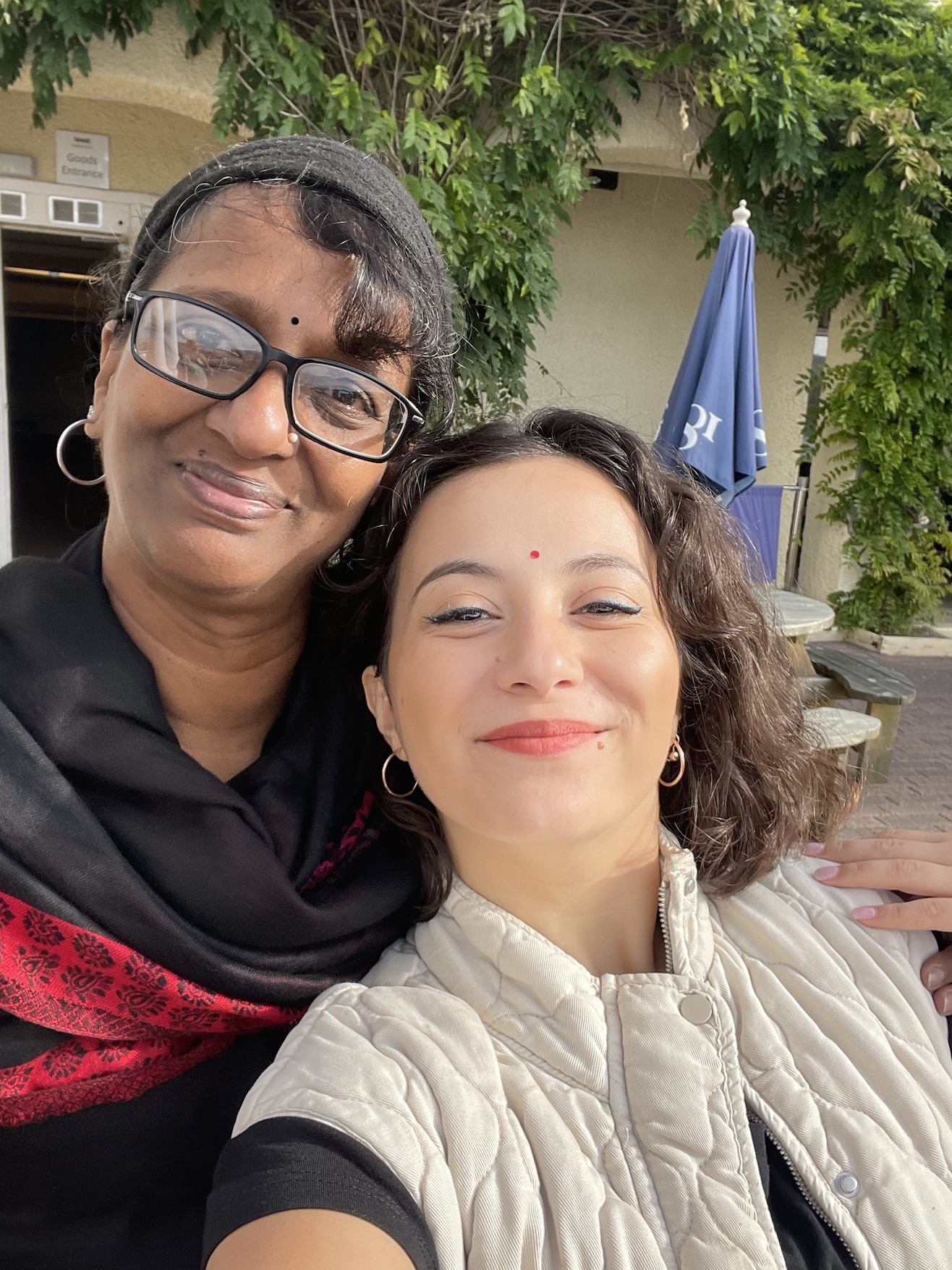 "Everything was an invention at that time," Vasuki told me, "but when we started inventing and sustaining ourselves, this gave us a lot of power. We were surviving, and survival gives you a lot of creativity. That's something you show the other party that they cannot deny."
Regardless of how events unfold, Vasuki reminded me that survival is not just something we do, or something that happens. We forge survival through a conscious, collective effort that nurtures belonging and fosters togetherness.
It inspires others in the community and around the world to continue to live, create, and harness joy and beauty. It is a source of power rooted in resourcefulness, joyfulness, and sustainability, and it cannot be taken away or denied by anyone.