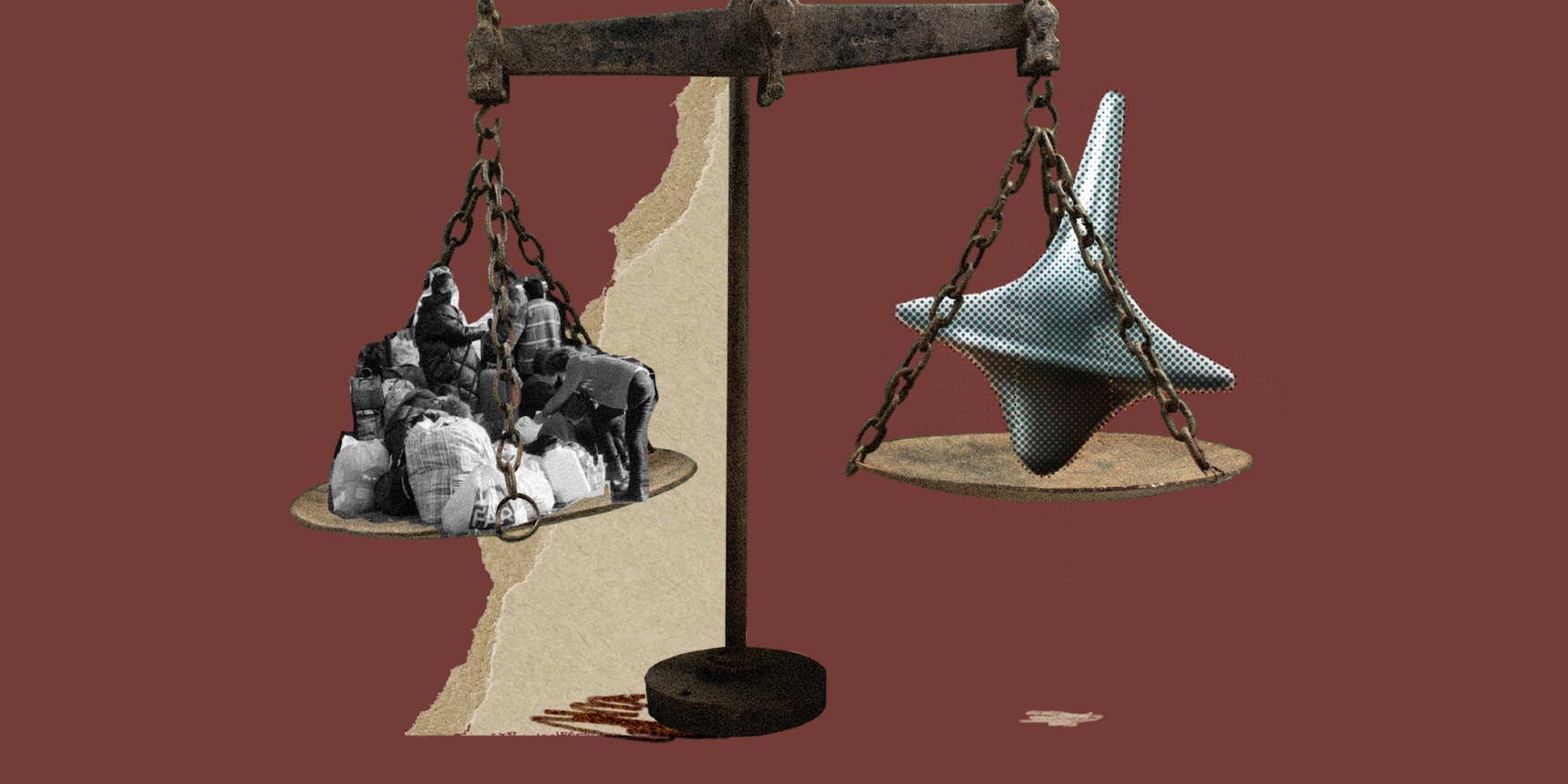 Setting the Scene
International law does not have a strong history of being highly regarded by Armenian society. Criticism highlighting perceived double standards and the ineffectiveness of the "world order" has become commonplace. This is unsurprising given the tumultuous environment Armenia has navigated since gaining independence in 1991. International law, or more precisely, the public's expectations and perceptions of it, has played a weighty role in the nation's life. As Armenia has grappled with geopolitical challenges and crises, the role of international law has often been thrust into the spotlight, evoking both hope and frustration.
When Azerbaijan attacked Armenia to settle the three-decades-old issue of Nagorno-Karabakh in 2020, demands for robust reaction from the international community reached new heights in Armenia. Trust in collective security and humanitarian law plummeted even further when numerous reports of atrocities flooded in from the battlefield.
Azerbaijan's aggression against Armenia-proper in September 2022 added fuel to the fire. Then followed the ten-month-long illegal blockade of what remained of Artsakh after the 2020 ceasefire, culminating in Azerbaijan's attack on the blockaded region on September 19. This resulted in the ethnic cleansing of over 100,000 Armenians. As if the faith in the international community wasn't questionable enough, these events took it to even greater heights.
The general critique can be characterized as follows:
"They attacked, and no one held them responsible, nor did the international community condemn them" –

jus ad bellum

(

the conditions under which States may resort to war or to the use of armed force

) criticism. 

"They committed countless atrocities, and no one stopped or punished them" –

jus in bello

(international humanitarian law) criticism.

"The international community neither recognized Artsakh's (Nagorno-Karabakh) declaration of independence nor its right to self-determination, like in the case of Kosovo: there is no justice" – a broader public criticism of international law. 
From a legal perspective, this critique can be broadly categorized into two groups: misconceptions about the law and its relevant principles, and misconceptions about its operational mechanisms.
This article is a response to these important questions that shape public perceptions of international law. It seeks to demystify the subject, providing clarity about the capabilities and limitations of international law, and ultimately bridging the gap between expectations and reality.
Part I: The Deafening Silence: Jus Ad Bellum Critique
If our central concern is war, or, using contemporary legal parlance, armed conflict, and the resulting injustices and suffering, then let us begin by addressing the law on the use of force, commonly referred to as jus ad bellum.
Azerbaijan's recurrent attacks against Armenia and Nagorno-Karabakh dealt a devastating blow to what little credibility the international community held within Armenian society, deepening the impression of international law's inadequacy. 
I have asserted elsewhere that Azerbaijan's use of force in both 2020 and September 2023 was in violation of jus ad bellum. A critic still might argue that international law didn't really prevent Azerbaijan from using force after all. However, this article does not explain why violations occur. Instead, it underlines that when the law is violated, it doesn't become irrelevant or obsolete.
Jus ad bellum is a branch of Public International Law (PIL) that pertains to the conditions under which states may resort to the use of force. Understanding its contemporary meaning requires an examination of its gradual evolution (more on this see here, pp. 35-55). Until the end of World War I, resorting to armed force was often seen as a natural method for settling disputes between states. This trend was gradually abandoned from 1919 onward. The adoption of the UN Charter in 1945 firmly established the prohibition on the use of force among states under Article 2(4). The Charter restricts the use of force to only two exceptions: self-defense under Article 51, and UN authorization for the use of force.
While this article addresses the international law critique from an Armenian perspective, critical voices span a broader geographical and historical spectrum. The school of "realist criticism" argues states follow the rules against using force only when it serves their strategic interests. This perspective is not uncommon in Armenia.
In this vein, H. L. A. Hart posits that the absence of an international legislature, courts with compulsory jurisdiction, and centrally organized sanctions in international law raises questions about whether international law can be considered a true "law" (see here, page 214). Critics argue that international law's classification as "law" depends on the viewpoint of the state violating the prohibition on the use of force, making it context-specific. However, simply designating something as "law" does not automatically ensure its (absolute) effectiveness. Many ineffective domestic legal systems are still considered "law". This exposes the flaw in the "realist criticism". 
But Is jus ad bellum Genuinely Ineffective?
This perception of the law's efficiency varies depending on where you reside – in security-turbulent Armenia or tranquil Luxembourg. Yet, to truly measure its impact, we need to roll up our sleeves and dive into some objective, hard-nosed analysis.
Steven Pinker's remarkable, quantitative research reveals a significant reduction in the use of force since 1945, particularly in the post-Cold War period. However, it has weathered some storms in light of the Iraqi wars in 1991 and 2003, the blood-chilling conflict in the Balkans, the devastating crisis in Syria since 2011, Russia's annexation of Crimea in 2014, and its full-fledged invasion of Ukraine in 2022, as well as Azerbaijan's aggression against Armenia and Nagorno-Karabakh since 2020.
Nevertheless, when we look at it from a broader human perspective rather than our narrow window, the undeniable and profound decline becomes evident. This stripped-down approach aligns perfectly with the philosophy of the prohibition on the use of force, which, to borrow Christine Gray's remark, jus ad bellum rules "clearly also serve a declaratory function; they set out a goal to be aimed at, the ideal that states adhere to" (see here, page 27). 
Of course, Article 2(4) is not the lone ranger here – states weigh international trade, nuclear deterrence, collective security alliances, and a host of other factors in their decision-making. Between 1970 and 1997 alone, the number of international treaties tripled. This had a profound impact on state behavior, causing them to think twice before resorting to the use of force. However, even amid the multitude of factors at play, jus ad bellum has undeniably made a difference
Indeed, unwavering adherence to a rule is not always a prerequisite to claim its ongoing relevance (see here, page 43). In its renowned Nicaragua case, the International Court of Justice (ICJ) made a noteworthy observation: 
"[i]t is not to be expected that in the practice of States the application of the rules in question should have been perfect, in the sense that States should have refrained, with complete consistency, from the use of force or from intervention in each other's internal
affairs. The Court does not consider that, for a rule to be established as customary, the corresponding practice must be in absolutely rigorous conformity with the rule."
Consider a national legal system as an example: the unsettling truth is that some individuals do commit murder, and yet, the law against it remains firm and undiminished. Take it to the extreme – even if the majority were to turn to murder, this would not make the prohibition irrelevant or murder permissible. Interpreting alleged ineffectiveness as a fatal blow to the law prohibiting it
would inadvertently create a "nullum crimen sine lege" situation – there is no crime without law, a path we definitely do not want to tread.
States may walk the line, and yes, there are so many instances when states overstep, but they do so with a nod to the established framework and associated terminology that governs the use of force. "So what?" one might wonder. When Azerbaijan, Russia, or the United States on so many occasions decided to flex their muscles with acts of aggression, they did not forget to dress it up with the fine garments of international law parlance. However, this article is not here to explain why aggression is hard to eradicate. Instead, its aim is to emphasize that international law is not merely a hollow framework disregarded by states.
The ICJ went on to note in the same case that: 
"If a State acts in a way prima facie incompatible with a recognized rule, but defends its conduct by appealing to exceptions or justifications contained within the rule itself, then whether or not the State's conduct is justifiable on that basis, the significance of that attitude is to confirm rather than weaken the rule."
The dilemma here is that a single instance of a state's violation sends shockwaves through a landscape of compliance, especially when the price paid is human lives. The daily compliance of states with the law generally goes unnoticed. In the words of the renowned legal scholar Louis Henkin, "It is probably the case that almost all nations observe almost all principles of international law and almost all of their obligations almost all of the time." (See here, page 42). In this context, "almost" speaks volumes. The gap between "always" and "almost always" is where violations occur. Therefore, writing off the entire legal system as utterly powerless amounts to opting for complete chaos over a system that, though imperfect, at least aims to curb the use of force. As much as we may wish for it, absolute adherence is not feasible, whether in domestic or international law.
Importantly, there is no global police force to swoop in and save the day. In this context, we need to distinguish two profound paradigms: one where the law influences state behavior, and the other where it acts as a yardstick to qualify state actions as legal or not. In the latter case, the law can only act retrospectively, meaning that we can assess violations only after they have occurred. But why bother delving into these assessments when there is no one to enforce the law?
Is it Genuinely Unenforceable?
This brings to light international law's notorious Achilles' heel – its enforcement challenge. 
A common refrain contends that international law lacks the teeth to be considered "proper law" due to its perceived unenforceability. However, this argument often succumbs to a cognitive distortion rooted in thinking in extremes. Enforcement per se is not as straightforward as it may initially appear. Enforcing a run-of-the-mill rule in a national legal system is not a walk in the park, let alone when dealing with sovereign states. 
As Jean d'Aspremont astutely pointed out, the "enforcement complex" of international lawyers flares up each time we are bombarded with headlines screaming about blatant violations of international law (see here, page 130). And this, amidst the sea of questions, dashed hopes, and those quick-to-react comments was precisely what prompted me to pen this article in the first place.
The prevailing notion of enforcement in international law leans heavily on the collective security system. This marked the decline of self-help (not to be confused with self-defense) as the primary tool for enforcing international law. Self-help, largely unregulated until the 20th century, allowed a state to take forcible measures against another state to stop a breach of its obligations. This essentially meant the aggrieved state acted as its own judge in its case, often leading to arbitrary self-entitlement. A clear example of this in the 21st century was Azerbaijan's actions in 2020 when it unilaterally decided that peaceful negotiations had failed and it was entitled to self-help against Armenia and Artsakh.
While the collective security system has both perceived and real shortcomings, it serves as a counterbalance to unchecked use of force, particularly against weaker parties in international disputes. Shifting to more targeted sanctions, the UN Security Council can refer specific situations to the International Criminal Court, giving it the authority to initiate investigations even in countries that have not signed the Rome Statute. Those who are quick to dismiss the system as utterly useless should also ponder what a world dominated by self-help as the primary enforcement tool would look like. 
When grappling with the seeming absence of strong deterrence and enforcement mechanisms, it is crucial to bear in mind that states themselves laid the foundation for the global security framework, including the prohibition on the use of force. Hence, the onus of upholding and abiding by these rules falls squarely on their shoulders. The viability of the security system should not be tethered to stringent enforcement demands. Enforcement in this context differs significantly and is marked by complexities. Drawing parallels with the traditional understanding of enforcement, where authorities execute court orders like eviction notices, does not hold. Acknowledging the system as it is in practice, with all its distinctive realities, is the only way forward.
Almost All and Almost Every
When it comes to the "might is right" adage, it is essential to redefine "power". Genuine power in the international arena is not about sheer force; it is about the recognition that the law bestows upon actions. When power lacks legitimacy, it is nothing more than reckless capability. Take Russia's claims and annexations in Ukraine. Now, does it really make Russia powerful?
Despite Azerbaijan's thuggish behavior, international law, including the prohibition of arbitrary use of force, remains both valid and vital. If we want to do more than just blame the world for our misfortunes, we must understand how the law runs. 
Our once-sturdy global security system, if it ever truly existed, is now facing unprecedented strain. But here is the thing – in these tumultuous times, these arguments make more sense than ever. There is no alternative but to grasp onto the vision that originally brought the great powers together around the table in the aftermath of World War II. It is about rediscovering those foundational principles that can help us navigate the stormy seas of the present.
This article dissects the critique of jus ad bellum in Armenia, separating legitimate concerns about the inherent imperfections of the global legal stage from the sweeping dismissal of an unjust world that reflects a pervasive sentiment that the system is fundamentally flawed and ineffective, an argument that holds steadfast despite any efforts.
When it comes to the first layer, like any legal system, international law cannot be flawless. Crafted by states, with states as the primary enforcers, it reflects pragmatic compromises necessary in a world of sovereign entities pursuing their interests. It is not a "bug" but a feature, a necessary trade-off for a globally applicable legal framework. 
Moving to the second layer, inadequate and distorted coverage, often rooted in conspiratorial concepts, contributes significantly to portraying the law as inherently unjust, formal and inoperable. This criticism remains elusive, as it resists any constructive engagement. Nevertheless, dismissing the law based on its violations is counterproductive. Otherwise, there would be no functioning law at all. Engaging in critical analysis amid the multitude of sources that broadcast and interpret international law is key to evolving a healthy and realistic environment around us.
It is unsurprising that a society in a tumultuous region like ours may struggle to recognize that the prohibition of the use of force operates within a broader perspective of its long-term socio-historical context. The desire for immediate reforms to address contemporary issues is only natural. However, the international legal system functions as a slow-burn project focused on long-term progress. In this context, the current system stands as an unprecedented and still evolving achievement in the history of international law.
"Almost all and almost every" represents the pinnacle of what international law can achieve, and in this context, "almost" carries significant weight.