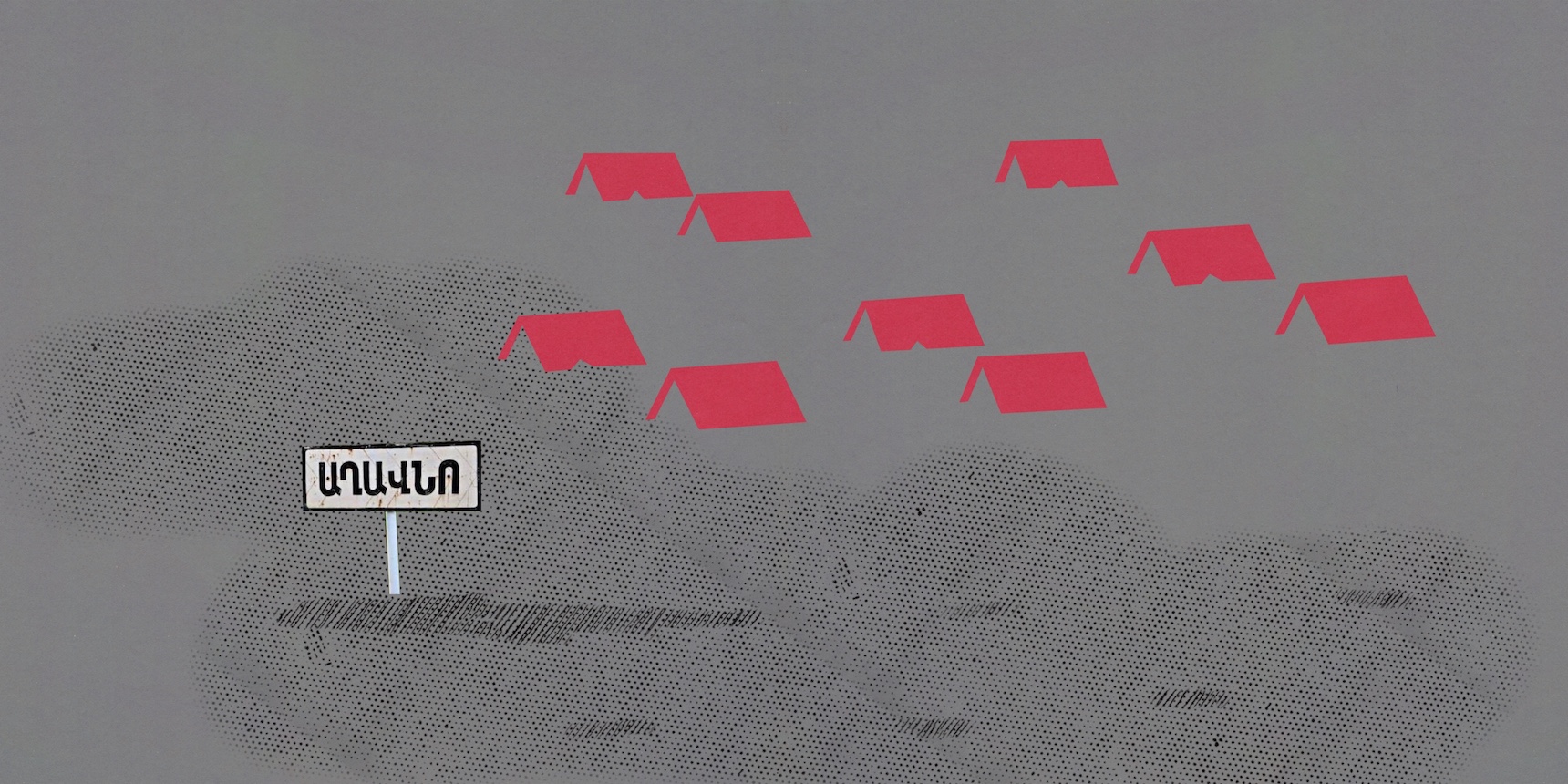 "Hello kids. Why have you gathered, what's the occasion?"
"Yesterday we found out that in a few days we need to leave this place and move. We are saying goodbye to each other…"
This was a conversation between a photographer and the children of Artsakh's Aghavno village, located in the Berdzor/Lachin corridor connecting Armenia to Artsakh. 
Just a few days after Azerbaijan's most recent military attack against Artsakh (August 1-3, 2022), local authorities in Nagorno-Karabakh instructed residents of the Armenian village of Aghavno to leave their homes by August 25, when it is scheduled to be handed over to Azerbaijani control. When the 44-day war ended in November 2020, there were mixed and uncertain messages regarding the fate of the population of not only Aghavno, but the villages of Sus and Berdzor. At the time, local residents were told that they would have to leave their homes by December 1, because the Lachin district was also going to be handed over to Azerbaijan (Azerbaijani Armed Forces had already taken control of four other territories including parts of Nagorno-Karabakh proper—Hadrut and Shushi). The next day they were told the opposite. Back then, a handful of residents in Aghavno defied orders and stayed. Now the issue is back on the table again. 
The handover of these villages was voiced officially for the first time by Armenian Prime Minister Nikol Pashinyan during a June 27, 2022 press conference, when he announced that based on the trilateral ceasefire statement of November 9, 2020, a new alternative road to the Lachin corridor would be built to connect Armenia with Artsakh. Several villages and towns in the Berdzor district "will pass to Azerbaijan's control," he said. Following the prime minister's statement, the mayor of Aghavno Andranik Chavushyan said that they will refuse to leave, replying, "Let Pashinyan make decisions about his own properties…" Just a day after Chavushyan's statement, prominent Azerbaijani propaganda media source Haqqin.az published an article titled, "Azerbaijani army may conduct an operation in the village of Zabukh."[1] The article hinted at possible Azerbaijani aggression toward residents of the Armenian village if they refused to leave: "What if the Armenians who illegally settled in Zabukh refuse to leave the village and try to resist? In this case, Azerbaijan will have the legal authority to conduct a special operation to neutralize illegally settled and armed Armenians…"
Thus, even as Azerbaijani President Ilham Aliyev declares that "all ethnicities in Azerbaijan are equal, including Armenians," at the same time he threatens Armenians with a "special operation" if they refuse to leave their homes. Undoubtedly, Baku carefully tries to conceal its policy of using force and the threat of force from foreign audiences. Aliyev uses different wording in his speeches addressed to the international community and assures them that Azerbaijan is promoting a new era of peace and cooperation in the Caucasus. The reality is quite the opposite. 
On July 15, 2022, Aliyev announced that although a year and a half had passed since the war, he did not see any "positive development" from the Armenian side, but rather only negative developments. "One of them is Armenia's refusal to address the issues identified in the Declaration signed on 10 November 2020," he added. "The Declaration…actually represents an act of capitulation on the part of Armenia, and as a side defeated in the war, Armenia assumed certain obligations. These obligations are explicitly stated there. One of them is the withdrawal of Armenian armed forces from Karabakh. This issue has not been resolved to this day. We have raised this issue many times, but Armenia keeps delaying it…"
Responding to the Azerbaijani president, head of Armenia's Security Council Armen Grigoryan, told state media on July 19 that all conscripts from Armenia will return home by September 2022 and will not be replaced. Most soldiers in the Armenian military are conscripts and Grigoryan added that contract soldiers from Armenia are not currently serving in Karabakh. [According to the ceasefire statement, Armenia agreed to withdraw its forces from Artsakh]. He added that according to information received from authorities in Artsakh "the conscripts of Nagorno-Karabakh will continue serving in the Defense Army just like before." This statement became a tool for Baku's propaganda campaign. After Grigoryan's statement, Azerbaijani media publications and expert opinions called official Baku to undertake an "anti-terrorist action".
Even the International Crisis Group's April 2022 report rejected Baku's false assertions. On this particular matter the report said: 
"Despite Baku's complaints, there is little reason to think that de facto forces are building up. These now number about 12,000 soldiers, just over half the size of the force commanded by the de facto entity prior to the 2020 war. Moreover, the front line that they patrol is two and a half times longer. They are also poorly equipped, as Armenia has withdrawn its forces to its territory and with them most of the heavy weaponry that was deployed against Azerbaijan during the fighting. Yerevan has sent no fresh forces to the area and is providing no new weapons to the de facto authorities." 
On August 4, a day after Azerbaijan's incursion, PM Pashinyan himself confirmed, "I have to officially record that there is no Armenian soldier in Nagorno-Karabakh." 
As for the fate of the Artsakh Defense Army it's noteworthy that there is no written agreement that says Artsakh cannot have defense or security forces. Nothing can deprive the people of Artsakh from having their own security measures when they have to face the existential threat coming from Baku on a daily basis. Aliyev plans to disarm the entire population of Artsakh, which will make it much easier for Azerbaijan to get rid of the Armenian population in a short period of time. 
Official Baku continues to create false narratives to justify further military provocation, which recently led to more loss of life.
Before the August 3, 2022, escalation, several high-ranking Azerbaijani officials also unveiled their upcoming plans. "Azerbaijani special services will resolutely stop any negative situations,"  said head of Azerbaijan's State Security Services, Colonel General Ali Nagiyev at the July 26, 2022 conference of special services of Turkic-speaking states. He mentioned that "revanchist forces in Armenia have not yet abandoned their provocative intentions and the opposition of this country is making serious attempts to undermine the process of normalizing relations with Azerbaijan. As a result of the vigilance of the Azerbaijani special services, any possible negative situations associated with this will be strongly prevented." It goes without saying that the Armenian opposition is not in charge of decision making, so obviously this was a signal for a possible escalation.
Four days later, on July 30, a similar statement was made by Azerbaijani Defence Minister Zakir Hasanov. He ordered "army units to be ready to immediately suppress any provocations on the border with Armenia and in Karabakh." Thus, the information space made the subsequent escalation quite predictable. The Azerbaijani side didn't hide its intentions and even coined this latest operation "Revenge". As a result of Azerbaijan's latest military operation, two Armenian soldiers were killed and 19 others wounded by the end of day on August 3. Azerbaijan officially reported one soldier's death and on August 5, released information about the death of four soldiers, stating that they died in different non-combat situations. Out of those, three were serving on the line of contact with Artsakh. Even Azerbaijani sources mentioned that the real reason for those deaths was the August 3 military operation. 
Disruption of a Vital Lifeline
As a result of this latest military provocation, the Armenian population of Aghavno is now forced to leave. It is still, however, hard to answer one simple question: how will Artsakh and Armenia keep their vital connection if Lachin is fully under Azerbaijani control and the alternative road is not ready yet? 
According to the 6th point of the November 9, 2020 trilateral statement, "The Lachin Corridor (5 km wide), which will provide a connection between Nagorno-Karabakh and Armenia while not passing through the territory of Shushi, shall remain under the control of the Russian Federation peacemaking forces. As agreed by the Parties, within the next three years, a plan will be outlined for the construction of a new route via the Lachin Corridor, to provide a connection between Nagorno-Karabakh and Armenia, and the Russian peacemaking forces shall be subsequently relocated to protect the route. The Republic of Azerbaijan shall guarantee the security of persons, vehicles and cargo moving along the Lachin Corridor in both directions." 
While Aliyev recently declared that "the construction of an alternative road to the Lachin corridor by Azerbaijan is nearing completion," the Armenian Foreign Ministry stated that "Azerbaijan's attempts to unilaterally change the legal regime in the Lachin Corridor are unacceptable." 
Armenia has repeatedly stated that according to the ceasefire statement, there is still a year left to remove important infrastructure such as electrical lines, a gas pipeline, etc. from the corridor. For the moment, however, there is no alternative road and no change of infrastructure. This situation leaves the Armenian population of Artsakh in a trap. While Pashinyan has said that the three sides have not agreed on a final plan, and that Armenia has offered to approve a trilateral plan several times, on July 29, the Ministry of Territorial Administration and Infrastructure  announced that the reconstruction on Armenia's section of the road would begin in August 2022. According to Armenia's Minister of Territorial Administration and Infrastructures Gnel Sanosyan, the construction of the alternative road to Lachin will be completed by spring 2023. As Azerbaijan demands the handover of the corridor now, Artsakh will soon be left in isolation, which will quickly escalate into a crisis in winter. 
There is a 4-km dirt road that connects to the existing highway that will be controlled by Russian peacekeepers until the Armenian side finishes its section of the new route, according to Viktoria Petrosyan, assistant to Artsakh's Minister of Territorial Administration and Infrastructure.
It is also not clear if Azerbaijan is going to set up a checkpoint on the new road once it's completed or if only Russian peacekeepers will remain in charge of it as the November 9  statement stipulates. These are crucial points for the Armenians of Artsakh, who refuse to accept Azerbaijani control, because of the serious existential threat involved. Recent developments are not in accordance with the trilateral statement of November 9, and assurances from official Yerevan don't match the situation on the ground. However, authorities in Stepanakert were aware of the developments and possible scenarios. Artsakh's Minister of Territorial Administration and Infrastructures Hayk Khanumyan in a recent interview said that he didn't see an issue that the new road was agreed upon within a two-year period instead of the three years stipulated in the ceasefire statement. He went on to say that the suggested route south of Lachin (through Mets Shen and Hin Shen villages) had been accepted by the government of Artsakh. Khanumyan went on to say that he didn't know how this was communicated with Yerevan, but that authorities in Nagorno-Karabakh had been in communication with the Russian side.
There are two possible outcomes, partly based on theories being circulated in the Armenian public. The first is propagated by a group which includes mostly pro-western non-parliamentary opposition group members, some of whom are supporters of the current government. They insist that this is all the result of a secret deal between Azerbaijan, Turkey and Russia. After the provocation, Pashinyan also raised questions about the effectiveness of the Russian peacekeeping mission, which to be fair was quite logical. The second is propagated by a group consisting mostly of members and supporters of former regimes who see these developments as a part of a "Pashinyan-Aliyev secret deal". There are also those who criticize Pashinyan's "era of peace" policy and make calls to not rely on external forces or expect "saviors" from abroad, but to self-organize to solve existing problems. It's hard to comment on any "secret deals", but it is clear that people in Artsakh are living in uncertainty under serious security threats. 
Undermining the Right to Live in Peace
Azerbaijani parliamentarian Gudrat Hasanguliyev made a xenophobic but frank statement on August 5, saying, "Armenia should put an end to its territorial ambitions towards Azerbaijan and stop supporting the bloody separatism of Karabakh. Until this is not done, we should not recognize their (the population of Nagorno-Karabakh) right to live in peace." 
It is obvious that the Azerbaijani leadership has no intention of allowing the Armenians of Artsakh to live peacefully, and, based on their past rhetoric and behavior, it is likely that they plan a step-by-step deportation or mass extermination of the population. For this, Baku has chosen a policy of a drawn out conflict characterized by constant escalations, provocations, militaristic and anti-Armenian rhetoric aiming to defeat the Armenian people not only on the battlefield but also psychologically. Proof of this can be seen in the deliberate dissemination of footage where Azerbaijani soldiers desecrate and destroy Armenian cemeteries and graveyards and even exhuming a skull from an Armenian grave and hanging it from a car. The dehumanizing treatment towards Armenian PoWs is still fresh in the memories of the Armenian people. Baku continues to hold them hostage. 
As for Artsakh, even in 2019, Ilham Aliyev admitted the policy of Azerbaijan's former leadership to artificially engineer the population composition of Artsakh. He stated that, "under great leader Heydar Aliyev, the percentage of the Azerbaijani population in Nagorno-Karabakh increased sharply and doubled." In 2002, in one of his interviews to the paper Zerkalo, Heydar Aliyev said: "When I was the leader of Soviet Azerbaijan I did my best to promote the economic development of the region. Besides, in various ways I tried to decrease the number of the Armenian population and increase the Azerbaijani population of Nagorno Karabakh…". 
Clearly, Azerbaijani policy towards Armenians hasn't changed, even as Russian peacekeepers are in Artsakh with a mission to ensure the security of the Armenian population. Armenian residents are still under the serious threat of war. In this complicated situation, the political elite both in Yerevan and Stepanakert must make bold decisions, undertake serious security measures and be frank with their people instead of distorting reality, trying to calm people down while making them face new deportations or a new war. 
Footnotes: 
[1] The Azerbaijani name of the village of Aghavno is Zabukh.