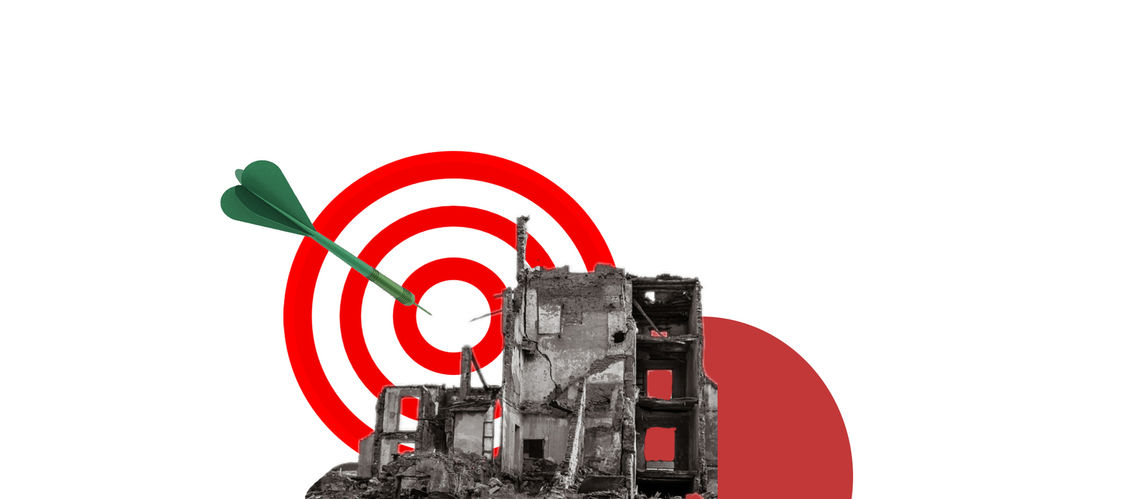 "I was talking on the phone when I saw it [drone] approaching. It was 15-20 meters away from me. I walked, because, well, I have a third-category disability,* I can't run. I lay down and, at that second, I saw it hitting a car. Then, there was smoke… I was taken to Aygedzor hospital," recounts Aramayis Hovakimyan, a 48-year-old resident of the village of Chinari, near the border with Azerbaijan. His right hand and leg were injured in the strike. After spending 12 days in hospital, he was discharged but continues to remain under medical supervision.
Hovakimyan was wounded on July 16, when Azerbaijan was shelling Armenian border villages in the Tavush region. He says that he went to collect figs that morning, then sold them and returned home at around 4 p.m. He learned about the shelling from the news and went to help the wounded. He sustained injuries from the drone strike right in the village, about 200 meters from his house.
The war has not ended for the residents of Armenia's border villages. It is a constant in their lives, for Hovakimyan as well. He lost his leg nine years ago in a mine explosion. "I went to forage in the fields," he explains. "I did not know that I had entered a minefield… We are still living in war. By God's grace, I survived twice."
His family has never considered leaving the village. "I will live here. I have buried my son here [who died in the army in 2013], my parents, young brothers who died in the war," he says and despite his deep personal losses, he ironically calls his village a sanctuary, a place that he could never leave.
Civilian Settlements in Azerbaijan's Target
The situation on the Armenia-Azerbaijan border in Tavush escalated on July 12, 2020. For days, Armenian settlements, with their civilian populations, came under shelling sustaining significant damage. As the campaign played out, Arman Tatoyan, the Government Ombudsman (Human Rights Defender), went to Tavush on a fact-finding mission.
"The fact-finding mission revealed that there was targeted shelling in the direction of the civilian settlements in Armenia," says Tatoyan. According to his assessment, Azerbaijani forces intended to damage vital civilian facilities, such as kindergartens, schools and the Tavush Textile factory, which was producing masks for the coronavirus pandemic. "Residents say that 1-2 hours before the shelling, a drone was carrying out reconnaissance," Tatoyan says. "Hence, when they say that it was an accident, they didn't want to do it, this does not correspond to reality. They clearly knew that there is no military facility here, these are only civilian facilities."
According to Tatoyan, Azerbaijan utilized artillery shells at civilian settlements that had the capability of causing irreparable damage: "After they explode they turn into projectiles and may cut down trees, can cause people to lose limbs, not to mention result in death. There were homes that sustained substantial damage. For instance, in Nerkin Karmiraghbyur village, [the artillery shell] hit a section of a long narrow house and demolished it. We found an unexploded ordnance in the garden of one of the houses in Chinari village."
The Center for Humanitarian Demining and Expertise SNCO later released a statement that their investigation of the military operations conducted in Tavush identified two unexploded projectiles in Chinari and one in nearby Choratan, two of which, according to the norms of international humanitarian law, should not be deployed against civilian populations.
Tatoyan noted another violation of international law: the shelling took place in daytime: "For instance, the mask factory has several hundred employees. The shelling took place around 11 a.m. when the workers were in the factory at that moment."
Explicit Threat to the Civilian Population of Armenia
Based on the information and facts compiled by the Ombudsman, interim reports were prepared and sent to international organizations, including the United Nations Human Rights Council. As an organization that is accredited with a status "A" by the Global Alliance of National Human Rights Institutions, this was an exceptional opportunity for Armenia's Ombudsman's office, which other National Human Rights organizations with lower status' lack.
Furthermore, it was thanks to the efforts of the Ombudsman, that Josef Siegele, Secretary General of the European Ombudsman Institute, issued a statement expressing concern that the Ministry of Defense of Azerbaijan threatened to launch missile attacks on the Metsamor Nuclear Power Plant in Armenia: "This statement is a clear threat to civilians and it may cause a humanitarian disaster. These kinds of statements undermine the international human rights system. The international humanitarian law has absolute prohibition for this kind of intimidation towards the civilian population."
Armenian Civilian Damages
The Investigative Committee of Armenia is investigating 30 criminal cases of Azerbaijan violating the ceasefire and firing at the civilian population using a wide arsenal of weapons.
According to the statement released by the Investigative Committee, the shelling of different villages in Tavush damaged 24 houses, a brandy factory, a wine factory, a kindergarten, a cemetery, four cars, one water pipe, one gas pipeline, one greenhouse and one police checkpoint, where two police officers were injured․ Moreover, one civilian (Aramayis Hovakimyan) was also injured.
Violations and Sanctions
Article 48 of the Protocol Additional to the Geneva Conventions of August 12, 1949 and relating to the Protection of Victims of International Armed Conflicts (Protocol 1 of 8 June, 1977) states: "In order to ensure respect for and protection of the civilian population and civilian objects, the Parties to the conflict shall at all times distinguish between the civilian population and combatants and between civilian objects and military objectives and accordingly shall direct their operations only against military objectives."
Ara Khzmalyan, an expert in international law says that Azerbaijan in principle has refrained from signing and ratifying this document.
"In theory, it allows us to state that Azerbaijan is not bound by this document, but the ban on indiscriminate attacks and the ban on targeting civilian objects or other relevant rules have the force of customary law, meaning that regardless of ratification of any document, Azerbaijan is obliged to comply with these rules," says Khzmalyan.
In other words, in this case, it is about violations of the customary norms of international humanitarian law. The Statute of the International Court of Justice (ICJ) defines the norms of international customary law as "a common practice recognized as a legal norm."
"In this situation, Azerbaijan's actions may become a topic of deliberation at the United Nations General Assembly… Targeting civilian objects, I think, should be considered in the context of hatred toward Armenians," Khzmalyan notes. "There are also grounds for Armenia to file an action against Azerbaijan for racial discrimination, as my colleagues have mentioned time and again. Of course, this means serious work, which can lead us to the International Court of Justice and put on the table the infringement of the Convention on Elimination of All Forms of Racial Discrimination by Azerbaijan. This will not only be a legal, but also a solid political win."
The victims are entitled to file individual complaints with the European Court of Human Rights (ECtHR). "The best example is the recent acknowledgement by the ECtHR, that Azerbaijan violated Gurgen Margaryan's right to life and exhibited discrimination. This is a judgment of exceptional importance. In this case, the efforts to disclose to the international community the essence of Azerbaijan's actions are realistic and effective, that is, that Azerbaijan is fighting against the Armenian nation, and the Artsakh issue is not a territorial dispute, as is being presented. It is about the right to live," says Tigran Nahapetyan, an expert in international law.
On Artsakh, from the perspective of the law, Nahapetyan attaches particular importance to the fact that regular artillery shelling and bombing happens right on the state border of the Republic of Armenia: "First of all, Azerbaijan, thus, confirms that Armenia and Artsakh are one single integrated security area. Second, Azerbaijan thus affirms that the Artsakh issue is not a territorial dispute, but rather a military conflict originating from Azerbaijan's attempt to obstruct the right of the people of Artsakh to self-determination. Consequently, all claims about observance of the principle of territorial integrity become null and void."
There are many precedents when sanctions were imposed on states for violating international law. According to Nahapetyan, given the special aspects of the framework of international law, when there is no effective means of vertical coercion, unfavorable legal consequences have emerged over the course of time as a measure of sanction. And there are a variety of unfavorable legal consequences available in the "arsenal" of international law, ranging from damage compensation to criminal liability.
Meanwhile, states and international organizations impose sanctions whenever there is confidence that international law was breached, and that breach is a threat to broader international or national interests. "Therefore, Armenia should consistently present the actual situation, that the weapons sold to Azerbaijan are being used against the civilian population, that such occurrences threaten not only the security of the Republic of Armenia and the Republic of Artsakh, but also the peace in the entire region," says Nahapetyan.
* In the Soviet period, the groups of disability were defined according to the degree of possibility of working and not according to the disease or defect. There are therefore three categories of disability in general. 

The flare-up of violence on the Armenia-Azerbaijan state border triggered a chain of reactions in Azerbaijan and Turkey. Historian Vahram Ter-Matevosyan examines the domestic situation in Azerbaijan and the implications of Turkish involvement.
Read more

Border settlements are unequivocally and strategically vital for the security of Armenia and Artsakh. Protecting them militarily, economically and socially needs to be a national priority.
Read more

For nearly three months, a tracking system overseeing the phone calls and locations of citizens has been implemented to prevent the spread of COVID-19. EVN Report's Astghik Karapetyan talked to several experts on the efficiency, flaws and possible dangers of the system.
Read more

Women, the elderly and children living under the same roof with violent abusers became even more vulnerable during the quarantine. Calls to domestic violence hotlines in Armenia have increased by almost 30%.
Read more