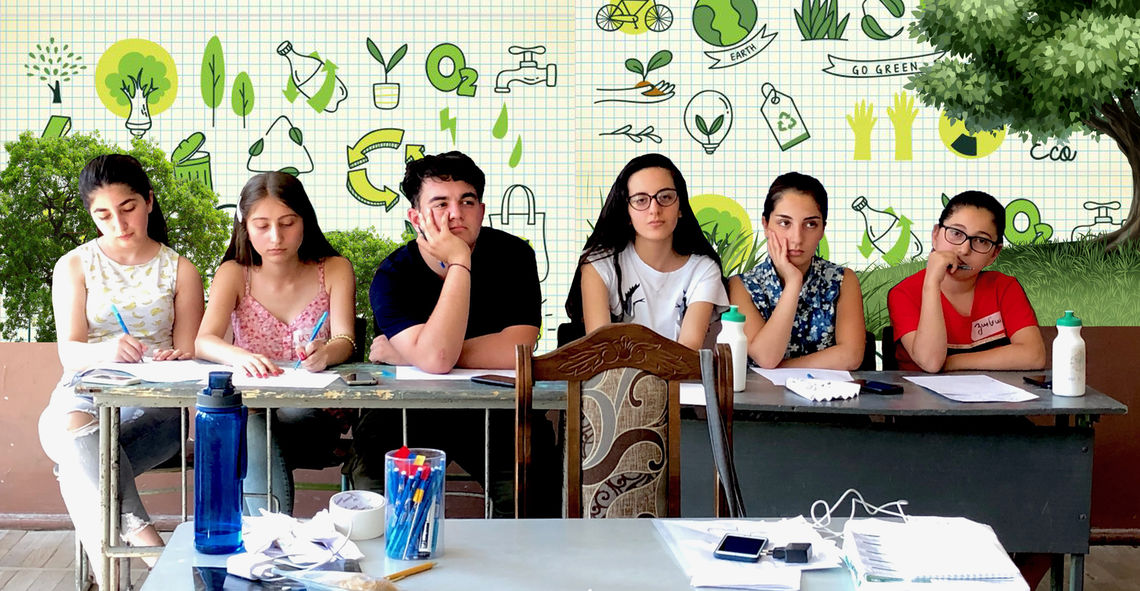 Throughout 2019, inspired by climate activist Greta Thunberg, students around the globe took part in school strikes and organized demonstrations in their hometowns to demand climate action. However, no such initiatives for students or by students were undertaken in Armenia. The core issue is perhaps the lack of awareness about environmental problems among Armenian school children. With no comprehensive curriculum, it has become the "responsibility" of individual teachers and NGOs to educate the youth about environmental issues and their consequences in and outside Armenia.
To make Armenian youth more environmentally conscious and responsible, in 2017 Elmira Ayvazyan, 22, joined the organizing team of the Growing and Renewing Our World (GROW) camp, a collaboration between U.S. Peace Corps volunteers and FLEX (Future Leaders Exchange) program alumni. The idea of organizing environmental camps in Armenia was born during the Border to Border program, when Elmira met Peace Corps volunteer Darryl Alexander, who invited her to join the team. Elmira's enthusiasm for a better environment helped her carry on the initiative, even after the initial organizers had left the country. Since 2017, she has organized GROW camps in various regions of Armenia, including Armavir, Alaverdi, Sevan, Gavar, Kapan and Yeghegnadzor. While camp activities are held in these locations, Elmira notes that they have participants from neighboring villages as well.
The week-long camps aim to raise awareness about environmental issues among Armenian children and teenagers, as well as guide them in coming up with ideas to solve the issues in their own communities. "Our goal wasn't to depress them by saying 'oh look, you have these issues,' but rather to push them to come up with possible solutions for some of those problems," notes Elmira. Depending on the geographic location of the camp, Elmira and her team of volunteers put more stress on the environmental issues that directly impact that specific region. "For example, in Armavir, we were more focused on water issues, while in Syunik it was more about mining," she explains.
Elmira conducts most of the camp sessions herself to avoid language barriers between Peace Corps volunteers and local children. However, they prepare and design educational materials together. Having taken numerous environmental courses at university, Elmira is very familiar with the educational materials. Besides, some of the volunteers have an academic background in environmental studies and can provide professional insight. They also host guest speakers from different NGOs and the environmental department of the U.S. Embassy.
They provide campers with comprehensive knowledge on ecosystems, waste management and climate change. The classes are designed to be interactive and involve games, experiments, team building activities and discussions. Elmira notes that she does her best to keep the campers engaged in the process as most young people who partake in such camps and workshops "only care about networking and participation certificates."
To assess campers' progress, the organizing team prepares before and after tests. Elmira also tries hard to keep in touch with all the participants, a group of a couple hundred people. They use Facebook groups to organize and share new initiatives such as clean-ups, arts and crafts activities that reuse waste materials. "Whenever it's possible, we assist them with funding to carry out their own projects after the camps." Now, she and her team are preparing for the camps in Goris and Spitak.
The Acopian Center for the Environment, a research center of the American University of Armenia, has been actively engaged in various environmental projects by conducting research, organizing public events and designing e-learning materials on topics such as waste management, natural disasters, mining, sustainable energy and much more. While the Center's target audience seems to be academics and the general public, it has also conducted projects directed toward the environmental upbringing of youth.
In 2016, the Acopian Center completed its year-long Edible Schoolyards project, which was piloted in two Yerevan schools (Secondary School #87 and Basic School #56). The project, which had a total of 43 students from grades 8-12, aimed to demonstrate a nutrient cycle and teach about organic waste recycling through vermicomposting, a process in which red worms create organic nutrient-rich castings using food waste. Designed as an interactive hands-on educational tool, Edible Schoolyards brought the students together twice a week for about half an hour to make adjustments to their vermicomposting bins and discuss the process. Finally, after months of monitoring, they used the fertilizer generated by the worms to plant seedlings of berries and vegetables, which were transplanted into the schoolyards. "Such hands-on experience leads to deep learning, an accomplishment not readily reached by only reading textbooks," noted Armine Sargsyan, AUA Acopian Center expert and educator involved in the project.
The Acopian Center's latest project is the Our Planet course. Designed as an environmental and language learning course for elementary school students, it provides content-based instruction and language-integrated learning approaches. The course aims to raise awareness about environmental issues, and encourage environmental citizenship activities. The course textbook, authored by Diana Torosyan and Dr. Irshat Madyarov, is accompanied by online lesson videos and additional resources for teachers, such as a teacher's manual and slides. The topics covered in the textbook range from ecosystems, human impact on the Earth, ecological footprint, natural resources to air pollution and global warming. Diana Torosyan hopes that the textbook "will make our school children interested in the environment, too. It will help us to educate our children about the impact of climate change that we can already feel."
While certain individuals and organizations concerned with sensitizing Armenian youth to environmental issues continue to implement their own projects, there is certainly still room to do much more to ensure the next generation is prepared to tackle the challenges that await them.

This policy analysis aims to explore the main reasons people volunteer, how volunteer work is regulated and the key issues the volunteering sector faces in the Republic of Armenia.
Read more

What motivates people to give of themselves and their time in the pursuit of helping others and their communities? Three women explain.
Read more

What does it mean to be a volunteer in a country and a society that is vastly different from your own? Sofia Bergmann reflects on her experience in Armenia.
Read more
This project is funded by the UK Government's Conflict, Stability and Security Fund.
The opinions expressed are those of the authors' and do not necessarily reflect the official position of the UK Government.