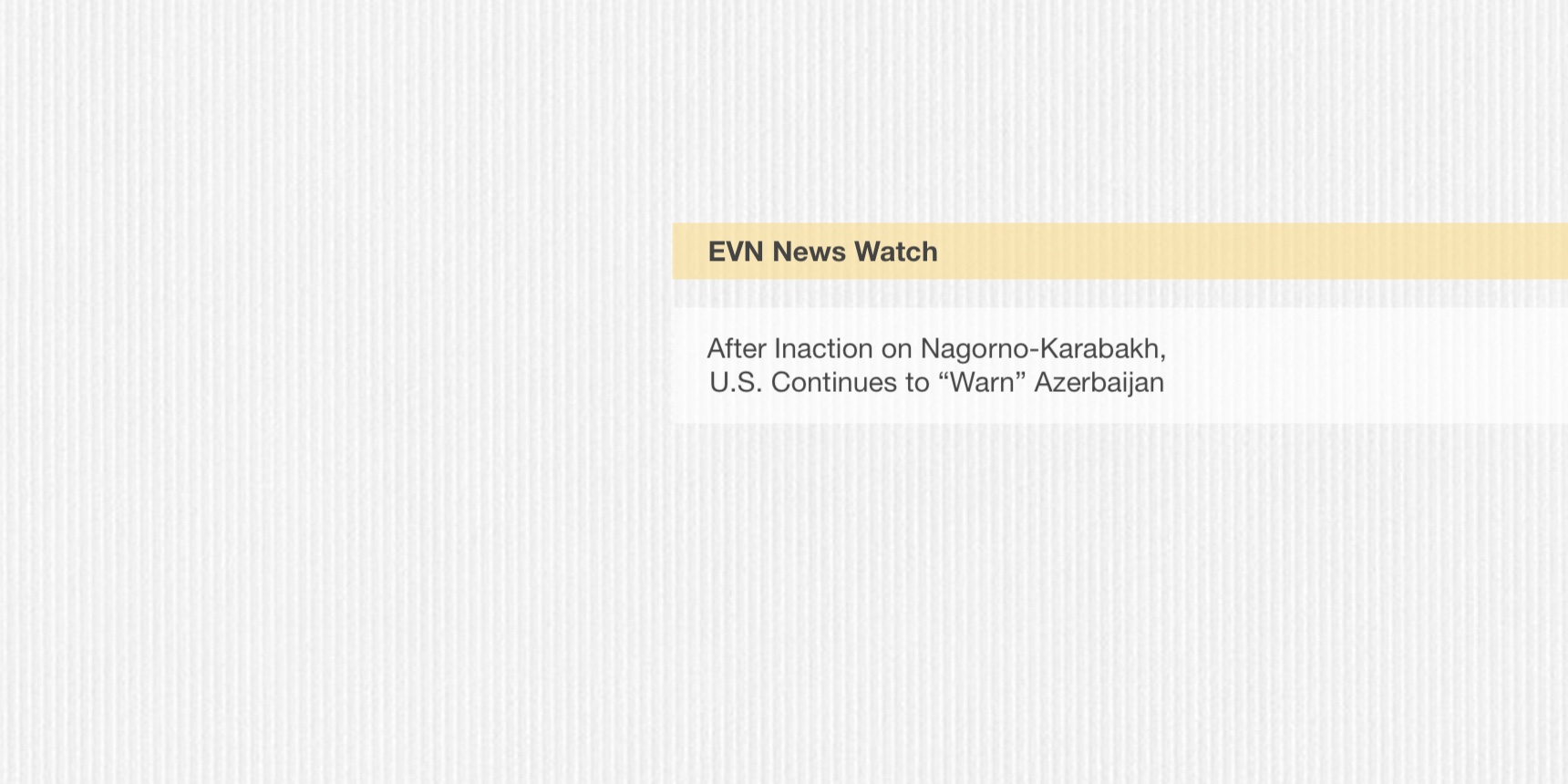 The U.S. House of Representatives Foreign Affairs Committee's Subcommittee on Europe held a hearing on November 15, 2023, titled "The Future of Nagorno-Karabakh". It was the first hearing in the U.S. Congress since the Azerbaijani attack on Nagorno-Karabakh on September 19-20, which resulted in the forced displacement of the entire Armenian population of over 100,000. The previous hearing was on September 14, at the Senate, where Acting Assistant Secretary of State Yuri Kim infamously stated that the U.S. "will not tolerate any military action" or "any attack on the people of Nagorno-Karabakh."
The hearing was chaired by Representative Tom Kean and had two witnesses: James O'Brien, Assistant Secretary of State (Bureau of European and Eurasian Affairs) and Alexander Sokolowski, Deputy Assistant USAID Administrator (Bureau for Europe and Eurasia). In his opening remarks, Rep. Kean noted that the purpose of the hearing was to "discuss the situation for ethnic Armenians who remain in Nagorno-Karabakh and those who have fled as refugees as well as hear from the administration on the status of peace negotiations between Armenia and Azerbaijan."
The hearing contained key remarks from Members of Congress and the two senior officials, which are presented below abridged. 
Opening Statements
Rep. Tom Kean: The US Congress will be watching Azerbaijan closely to ensure that it upholds its obligations to respect the human rights and fundamental freedoms of the residents of Nagorno-Karabakh. [… ] I also want to understand what message the Biden Administration is sending to President Aliyev about refraining from any further use of deadly force. […] I hope our witnesses today will explain how they are communicating to President Aliyev that the use of force against sovereign Armenian territory, including in the Syunik Province, would be completely and totally unacceptable. 
Rep. Bill Keating: While months of diplomatic talks had led to significant progress, in the face of immense personal and political risk undertaken by in particular Armenian Prime Minister Pashinyan, in September of 2023, Azerbaijan President Aliyev decided to break with the internationally accepted and lawful diplomatic path, instead opting for the use of military force in Nagorno-Karabakh. […] I strongly believe we must provide humanitarian and economic assistance to displaced people in Armenia and ensure accountability for any potential crimes committed against those fleeing Nagorno-Karabakh or those who are choosing to remain there. 
Assistant State Secretary James C. O'Brien: I'm encouraged that the UN and ICRC report that they have unimpeded, unrestricted access to Nagorno-Karabakh to verify conditions on the ground. We're working to ensure that they are able to speak with the refugees inside Armenia so that there's clear and reliable information available to them. 
There are two things we're doing: one is we want them [Karabakh Armenians] to have a viable choice to have the information and the rights they need to make decisions for themselves.
I also want to assure that we are developing, at the Secretary [Blinken]'s order, a comprehensive, thorough, and transparent record of what happened [in Nagorno-Karabakh], not just on those days [September 19-20] but for the months before. We've commissioned independent investigators; we have our own investigators working in the field. […] I can't put a timeline on this investigation, but we will keep you informed as we go forward.
The second thing we are working on is support for Armenia. […] I'm very impressed by the [Armenian] government's commitment to reform and to build diversifying the relationships that it has (economic, political, energy, and security), particularly in the transatlantic community. I think we owe it to the people of Armenia to help them through this difficult situation so that those choices they've made very bravely are able to help them have a more secure, stable, and prosperous future. We're working closely with the European Union on providing an offer of support for Armenia over the next months.
Third, we are pursuing a peace agreement. The sides have met multiple times. I saw the European Union mediators just this week, spoke with others this morning; they are hosting one of the parties today. The next few weeks will be critical in testing the party's willingness to go from good intentions to saying yes, because, as we all know, yes is the hardest word to get in a negotiation. So, how are we doing that? Well, we are deeply engaged. I think there have been 13 senior-level visits to the capitals, Yerevan and Baku, since September, as well as meetings among the parties. We're also deeply engaged with our Turkish colleagues as we go forward. 
We've made it clear that nothing will be normal with Azerbaijan after the events of September 19 until we see progress on the peace track. We've canceled a number of high-level visits, condemned the actions, and the 907 waiver. We don't anticipate submitting a waiver until such time as we see a real improvement in the situation. All of this is to say we continue to urge peace now.
Why would they make peace now and not before? I think you each pointed to a couple of key elements. One of them is the economic benefit of peace. Central Asian countries are looking for new routes to get their goods to market. Those routes can run through Azerbaijan onto Georgia or down through Armenia to Turkey. We've said no use of force is acceptable. A transit corridor built with the involvement and consent of Armenia can be a tremendous boon to states across the region and to global markets who will receive access to these goods. A transit corridor created some other way by force or with the involvement of Iran will, I think, be met with a very strong reaction and will not be a success. That's a simple choice. The other piece I think you've all touched on as well is the choice of what political relationships these states want to have in the future, a future that is built around an axis of Russia and Iran as the main participants in security in the region is unstable and undesirable, including for both the governments of Azerbaijan and Armenia. They have the opportunity to make a different decision now, and we're clarifying that, and I anticipate we'll have more senior-level involvement over the weeks to come.
Deputy Assistant USAID Administrator Alexander Sokolowski: Many of these displaced persons [from Nagorno-Karabakh] exhibited symptoms of sustained emotional distress and chronic illness as a result of Azerbaijan's blockage of the Lachin Corridor. 
Assistant Secretary O'Brien already noted the $11.5 million in assistance announced on September 26, and additionally, USAID has focused nearly $6 million in funding from existing programming at USAID Armenia to respond to the humanitarian crisis. This assistance provides immediate food, hygiene, shelter, shelter materials, child protection, and support to local governments and communities where the new arrivals have come to.
One key takeaway from my trip [to Armenia] was the sincere appreciation that displaced persons had for the government of Armenia and the positive assessments of its response so far. 
In addition to our response to the crisis, USAID has been increasing longer-term development support to Armenia to strengthen Armenia's economic resilience, improve public service provision, and consolidate democratic reforms. In recent weeks, we have deployed teams to Yerevan to explore ways of helping Armenia become more resilient over the longer term, particularly in governance and in the energy spheres.
Thanks to generous support from Congress, USAID has increased its assistance to Armenia by more than 50% since fiscal year 2018. This funding has allowed us to work with the government of Armenia, civil society organizations, and help Armenia foster economic growth, strengthen civic engagement, help diversify its energy supply, and support a more pluralistic, reliable information environment. USAID is also helping Armenia to build economic and trade linkages with Western partners and to increase economic opportunities for women and young people.
Question & Answer
Rep. Kean: The U.S. must send a clear message to President Aliyev that the use of force against sovereign Armenian territory, including the province of Syunik, would be completely unacceptable. Ambassador O'Brien, what measures is the administration prepared to use to deter such a move by Baku? Is the decision to forgo, as you alluded to in your opening comments, a Section 907 waiver for any part of that effort? What else, what other measures are you taking?
O'Brien: We have signaled repeatedly, Ambassador Power, communications from the Secretary [Blinken], at every high-level contact we've had, that the use of force inside Armenia is completely unacceptable. The authorities in Baku have assured us they have no such intention, and we're monitoring very closely the movement of troops and any indication that they might have plans otherwise. We've told them that there's no chance of business as usual as long as the peace agreement goes unconcluded.
What steps do we take with that? It's two things. One is we have canceled a number of senior-level engagements. We do not anticipate submitting a 907 waiver, which enables us to provide some assistance to Azerbaijan, and it is assistance that's meaningful both to them and to us. So, this has some effect, and we are noting that the possibility of building a transit corridor hinges on the conclusion of a peace agreement and an agreement with Armenia on working consensually to develop that. We're putting forth all the elements that we see as important in the relationship in order to see whether we can get a peace agreement concluded now.
Rep. Kean: What has the State Department learned from these interviews [of displaced Karabakh Armenians] about the living conditions of ethnic Armenians and their treatment during Azerbaijan's offensive?
O'Brien: I don't want to get in front of the conclusions, and I want to maybe offer a little context. My background—I began as a young State Department lawyer where I was one of the informal groups at the time to investigate the activities in Bosnia, where the phrase "ethnic cleansing" first came to international attention. This takes some time because we're dealing with a population that has been under enormous stress in the months leading up to the events of September 19 and has been through an extraordinarily difficult time. We're just beginning to speak with the residents, and it's not just us; there are also other groups that are actively involved.
What we're learning is that there was a period of a condition of fear due to the closure of the Lachin Corridor in the run-up—that's no surprise to anyone. So, when the Azeri authorities came in forcibly on September 19, it caused the residents to want to leave. Now, exactly what activities took place where, under what command and control, and how that was conveyed to the residents—these are all subjects we're seeking to learn. […] We will bring together a report that we think will give us a true picture. But it does take some time as we deal with a population that is still itself analyzing what has happened to it.
Rep. Keating: There are reports that have indicated that Russia has been using its influence with the post-Soviet states in the region to circumvent U.S. and European sanctions in aid of their war effort in Ukraine. How is the U.S. working with the countries affected, including Armenia, to try and deal with this issue?
O'Brien: It's a great question. So, just to focus on Armenia. The government itself has undertaken some very interesting reforms that allow it to track trade with Russia. In almost real-time, they can see which firms are involved in this circumvention trade, and then we're able to take measures to stop that trade. It works remarkably well. We just hosted a technical group here in my old office about two weeks ago, and the recent statistics are very, very encouraging. We can verify these through our own sources. 
The one hole is that, as a result of the 2020 ceasefire signed under the previous administration, the Russian troops actually control two key border crossings from Armenia to Russia—one is at the airport and another land crossing into Azerbaijan. The government has no control over the goods that flow through those items. It just makes even more urgent the point you made in your statement that we need to find a more stable way for Armenia to govern itself and to have the Russian peacekeepers leave when their five-year term is up in another year and a half. We can do that only if we are deeply engaged in the terms of the peace agreement that emerge. If we stay out, then Russia continues to control the border.
Rep. Keating: Could you take a few minutes and talk about how you characterize their [Pashinyan's and Aliyev's] roles and the importance of their moving forward on this?
O'Brien: I think it's the right focus. It all ultimately turns on what the two governments decide and whether the leaders are willing to say yes, and that is by far the most difficult thing to say.
Prime Minister Pashinyan has made clear that he wants Armenia to have a transatlantic opportunity, and he's diversifying the relationships that Armenia depends upon so that the people there are able to choose a future that fits their visions of freedom. He seems willing to take chances for peace. The question really is whether President Aliyev is willing to do that, and he has said he is. So now is the moment because the challenge always for a power that feels stronger—and I think it's fair to say Azerbaijan feels that it has the oil and gas revenues, the relationships, the ability to have some options—the challenge is always when it's time to cash the options in and commit to one path for the future.
How do we do that? We're talking a lot with Turkey, which has very close relations with the government in Azerbaijan. We're trying to lay out a path that makes clear the benefits that come from peace and the costs that come with choosing to wait further. Really, the decision will be his [Aliyev's] on whether he says yes or not, and we want that to happen in the next few weeks. All signs are they're willing to consider it, but getting to yes is always a difficult matter.
Rep. Keith Self: So, do you think that Azerbaijan took this action to force you to focus on this issue because obviously, the [907] waiver is important to them? 
O'Brien: I'd say no, the Azerbaijanis have never indicated as much to us. There's no sign in any contextual information that suggests so. What they have said is that this is a 30-year conflict, and they saw an opportunity to end it on terms they thought were favorable to them. We've said that there was a peaceful process to do so, and they told us they were committed to it, and then ultimately, we're not.
Rep. Self: Why the change?
Rep. O'Brien: I think what they saw was the continued violence, or the risk of violence in the area, and now they had the edge to be able to do something about it. That's independent of their signaling to us. And I just have to say, for as important as this issue has been to Azerbaijani politics for 30 years, the idea that a waiver, which is important, and I'll address the other question, the [907] waiver is important for addressing very narrow, specific issues. We feel comfortable that there is no damage to our national security right now.
Rep. Self: But then, what was the trigger? Simply the continued violence? Because I don't see that as a sufficient trigger to use military action when they're so close to resolution.
O'Brien: My guess is historians are going to argue about why this week rather than another week for a long time, and I don't think we'll settle it in our limited time. But I think what you're looking at more is a discussion about what the future of the region is and how much it's oriented toward the Black Sea and the transatlantic. They saw this as an issue that they now had the ability to do something about, and so they did it, and now we are trying to deal with the consequences of that in a way that, as you say, weans the states away from the Russian orbit.
Rep. Dina Titus: So what role will Turkey play in the peace relations, and also, what kind of damage are they causing now? Is there any monitoring of weapons that we sell to Turkey or that Turkey gets from us that they may then be using and helping Azerbaijan?
O'Brien: We do have careful end-use requirements and monitoring. I have never seen an indication of any illegitimate transfer. I'm happy to review that and get back to you, but are you suggesting that you have seen? As a matter of practice, we're very careful about, and particularly with Turkey as a NATO ally, I think those relations are pretty transparent.
Rep. Titus: I think we saw some use of F-16s in a previous engagement, but I don't know about now.
O'Brien: I'm not familiar with that; let me try to confirm that. I think that I've never heard. I think the piece with Turkey and its involvement, as you say, they have a very close relationship, and I think there are a few elements that are important here. One is the relationship to Armenia. We're very hopeful that we'll see some opening because Armenia is essentially landlocked; its routes out have to go to the West, have to go through Georgia or Turkey. So, for Turkey to begin opening those apertures, I think is critical for Armenia's future. So, we spend a great deal of time discussing that.
Now, the relationship with Azerbaijan, I think there are a couple of elements. One is this economic corridor that we're discussing, is a road or rail route that would run, really, from Central Asia through Azerbaijan, Armenia, and then to Turkey. So, it's a clear Turkish economic interest to be the endpoint for this route, and that was an element that was not present in previous peace talks. We just want to be sure that it's kept central to everyone's calculations.
Finally, to the point that the ranking member and I were discussing, one of the hardest issues for a leader is to know when the moment is to strike a deal rather than to wait for the deal to get better. That's, to some extent, an objective calculation, but more often, it also depends on your friends telling you when enough is enough. So, having clear communication with Turkey and constructive involvement by Turkey in these discussions is incredibly helpful because President Aliyev will want to know that he's not alone making this decision but that he's with a longtime partner of his own, and I think that's a role that Turkey can uniquely play.
Sokolowski: I would just add to that the point about the value of including Armenia in this Middle Corridor route. USAID has actually worked with the government of Armenia on doing some analytical work and studies of those routes. If you may have seen recently at the Silk Road Forum in Tbilisi, Prime Minister Pashinyan went and put up a big map about all the different trade routes that Armenia would like to see to deal with this issue of being landlocked. We very much see opening up routes, opening up economies, opening up energy cooperation as a key dividend of peace, and that's one of the things that we're trying to help with from the USAID side to promote peace.
Rep. Joe Wilson: The United States has an active and important partnership with both Armenia and Azerbaijan. What is the path forward in working with both countries, where the importance of maintaining our strong relationships with both?
O'Brien: You are right that we have important relations with both countries. That's why the way we are managing this is that we want to see Armenia improve the options it has to represent its people, and we want to work with Azerbaijan as it makes its choices so that human rights there improve, something we comment on regularly, but that our relationship can get back to normal. So, it's just one example again; we talk about this transit corridor. […] We would love to see this transit corridor happen with the consent and involvement of both states. An attempt to do it unilaterally or with the help of Iran would not be acceptable, and so we're painting a future of how we can grow closer and work more together that way.
Rep. Wilson: And it's so important to me that we counter the axis of evil, being the regime in Tehran, the Chinese Communist Party, war criminal Putin, and all of this fits together. It's to the benefit of the people of Azerbaijan and Armenia that indeed the dictators with the rule of the gun do not prevail over democracies with the rule of law, and we need to be sticking together. Putin has 3,000 soldiers at a military base in Armenia, which is startling, and they claim that they have a right to be there through 2044, but that's not clear. So, what can be done to assist the people of Armenia to request Putin to take his troops home?
O'Brien: I think I agree with both the statements you just made. I think the answer to both is the same. Our involvement in concluding a peace agreement between these countries is the way that each can find a way forward. The Russian troops are present under, at the moment, it's a five-year initial term following the 2020 peace agreement. If there's an alternative for the countries, then there'll be no role for these Russian peacekeepers. I mean, they've already failed as peacekeepers. So, the best approach is to give both these countries the alternative of working with us and the West.
Rep. Jim Costa: I've been listening to this conversation, and maybe I'm misinformed. I don't see the peace process as going nearly as well as some of the descriptions I've just heard. The meeting in Granada, Spain, the last two meetings, Azerbaijan has refused to go. I don't know how you describe that as being positive. And Armenia, I know, is very concerned that the mediators would be Turkey and Russia. I mean, Russia did absolutely nothing but allow Azerbaijan to do the ethnic cleansing. It was ethnic cleansing that happened with the removal of these Armenians from their historic homeland in Nagorno-Karabakh. I mean, to call it something else, these folks did not want to leave, and the corridor, I'm not convinced that they have access to go back to their homes. I'm hearing something entirely different. 
O'Brien: You know this situation well, yes, and I've talked, and so what I'd say on the peace process is what I have said throughout is I think the parties are engaging with each other directly. They do occasionally use mediators, sometimes they argue about which the mediators should be, but they're in direct bilateral contact assisted by us, assisted by the Europeans.
I think this comes down to whether they can look each other in the eye and say yes, and so I wouldn't worry about the different mediation efforts. I think this is fundamentally about whether the two leaders say we want to be in partnership working on this together going forward, and we're doing what we can to make clear the benefits of that happening.
Rep. Darrell Issa: What are you prepared to do to create a carrot-and-stick to move this agenda? Are you willing to add sanctions for non-compliance, and are you willing to delineate some of the resources you believe you have that could help Armenia be in a position to want to have a settlement and to trust in the settlement?
O'Brien: It is a question we're working on. As I said, we're looking at a matter of weeks to a few months, so these are all questions we're developing answers to.
Rep. Issa: You're so close, can't you give us a hint? 
O'Brien: Well, perhaps not always in this forum, but I will say there are two serious questions also that we're trying to sort through. 
One is the relationship with the European Union, so President von der Leyen has said publicly that she intends to have a meeting with the U.S. and with Armenia on a way to bring Armenia closer to our communities. I discussed this with the Prime Minister just a few days ago, and we're developing what that would look like. Obviously, given the proximity, the offer the European Union could make in terms of trade preferences, economic alignment, and access to the single market is incredibly important. We can assist in that, and that's just another piece. 
The feasibility studies on this transit corridor are actually being done, funded by USAID, so we're in the middle of seeing what kind of economic future there may be. There may also be additional items that we and the Europeans can bring to bear on security. France has just announced some significant contributions to Armenia's security. Yes, we are looking at all the tools we have. I'm not going to preview any sanctions decisions, but that's certainly a tool in our toolkit.
Rep. Issa: You're not previewing them, but are you committing to a willingness to use them [sanctions] if other methods don't work?
O'Brien: Yes.
Rep. Issa: Armenia is obviously eligible for a lot of U.S. aid support. You mentioned those studies that were done under U.S. aid. Has the TDA, the Trade Development Agency, been in there? And if not, wouldn't they benefit by having the feasibility that would include U.S. alternatives to Belt and Road?
Sokolowski: This keys into your conversation that you were just having with the Ambassador regarding broader support for Armenia. We are engaged with the government of Armenia in a number of different areas to help them increase their resilience and give them options so that they're not so dependent on previous relationships with Russia that go back to the Soviet period. These engagements cover areas related to trade, energy, critical infrastructure, information systems, a whole range of things, even including agriculture. 
We worked with our colleagues at the Department of State and with the USDA to bring in folks from the USDA to start working with the government of Armenia on what it can do to lessen its dependence on Russian grain and flour. So, per your point about TDA [U.S Trade and Development Agency], we see this as a moment where it really has to be a whole-of-government effort, looking across all of our abilities to see what we can bring in response to what the government of Armenia is signaling its needs are. We're at a moment where we're looking more broadly than we have in the past, about which is the best U.S. government partner to respond to the government of Armenia's needs.
Rep. Issa: The Armenian government, its ability to know what it needs versus a willingness for us to lean into program suggestions. If you were to balance the two of them, without any disrespect to the government, wouldn't you balance it in favor of we need to lean in?
Sokolowski: It really is a conversation. They will come into a conversation saying we need these 10 things, and in the midst of a conversation, we can say, well, what about this 11th thing or the thing that you're suggesting? Have you thought about this experience from this other country that might be useful? So, I think you're absolutely right that we shouldn't just say, okay, here's what you're saying, and that's exactly what it is. It's a conversation in which we can say, here's where we think we can help you, here's where other different parts of the U.S. government or even other donors or other organizations could be of support.
Rep. Lawler: President Biden recently noted that when autocrats don't "pay a price for their aggression," it only emboldens their behavior. What has the Biden Administration done to ensure Azerbaijan pays a price for its aggression?
O'Brien: So, as I mentioned, we've made it clear to them that there's no business as usual. We've suspended high-level contacts, and on a variety of topics, we have not and don't anticipate submitting a waiver on 907. The real question is, so is that enough? 
President Aliyev has traditionally tried to balance his ties to the regional players—Russia, Iran, particularly, Central Asia—as well as to the West. I think he's reaching a point in my analysis that if he makes peace, he has the opportunity to become more prosperous and to be in a stable area where there are counterweights to Russia and Iran. If he fails to make peace, he's really saying that in the future, I want to be beholden to Russia and Iran at a time when those two powers are getting much closer to one another than they are to him. And that puts him in the position of being very much the odd man out in a three-way game, and I think that's not where he should want to head. So, we're trying to provide him with the alternative of a better future.
Rep. Brad Schneider: How should we think of the possibilities of peace between Armenia and Azerbaijan in this context?
O'Brien: Peace is always made between adversaries, and to see any successful peace through to its conclusion, there needs to be accountability for crimes, but there also needs to be some measure of setting a new path going forward. What lies before us now is whether that's possible in this case, and that lies with the parties. We are creating a path for them to take and incentives for them to go there. We have to do this in a way that is consistent with our rights.
What we are looking for now is a peace agreement that reflects the interests of the people of Armenia and we believe those of Azerbaijan in developing stronger relationships with the vibrant economies to their West rather than with the autocracies to their North and South.

Armenia's Western pivot is neither ideational nor conceptually geopolitical, it's a matter of survival. The objective of the Western pivot is not about replacing one dependency structure with another, but rather, rupturing the entire logic of dependency and establishing sustainable security independence.
Read more

EVN Report's Editor-in-Chief Maria Titizian speaks with Dr. Nerses Kopalyan, author of the monthly series "EVN Security Report" about the objective of Armenia's Western pivot, which is neither ideational nor conceptually geopolitical but rather the need to rupture the entire logic of dependency and establish sustainable security independence for the Republic of Armenia.
Read more

Mushegh Gevorgyan, the co-founder and CEO of Dowork.ai and Rumors Monitoring, discusses his entrepreneurial journey and the work he and his teams are doing at his two companies. Mushegh began by sharing his path with Rumors Monitoring, a platform that provides insights into how companies are perceived across the media sphere and his most recent venture, Dowork.ai, an AI agent for customer service applications. Mushegh also spoke about pivoting ideas and building defensible businesses on top of LLM layers such as GPT.
Read more